This week in the Trump-Russia investigation: Mueller follows the money as FBI probe hits 1-year mark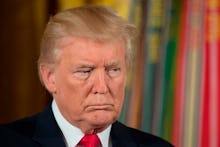 The FBI investigation into Russia's meddling in the 2016 presidential election turned 1 year old this week, and President Donald Trump marked the occasion as only he can: by mocking it.
"Have you seen any Russians in West Virginia or Ohio or Pennsylvania?" Trump asked during a West Virginia rally on Thursday. "Are there any Russians here tonight? Any Russians?"
Trump — who has repeatedly described the FBI's probe and other investigations into his presidential campaign's alleged ties to Russia as a "witch hunt" — told supporters at the rally that Democrats invented the "totally made-up Russia story" because they have "no message, no agenda and no vision," and that allegations of collusion were "fake."
But the investigations continued to ramp up this week as special counsel Robert Mueller reportedly impaneled a grand jury as part of his probe, a sign of the investigation's increasing scope.
Here's what happened in the Trump-Russia investigations this week:
Mueller convenes a grand jury
Mueller, who had already secured a grand jury for former national security adviser Michael Flynn, has apparently added another, the Wall Street Journal reported Thursday. The move suggests the investigation is broader than just Flynn and could likely extend well into 2018. Additionally, it allows Mueller's team to subpoena witnesses and documents to put before the grand jury.
Mueller seeks Flynn documents
Speaking of Flynn, Mueller's team this week requested documents from the White House on the former national security adviser, who resigned less than a month into Trump's presidency amid revelations he'd inappropriately discussed sanctions with Sergey Kislyak, Russian ambassador to the U.S.
Kislyak on Saturday said those talks focused on "the simplest things" and were "absolutely transparent."
"There were no secrets, at least on our part," Kislyak said.
The investigators' request came as Mueller examines Flynn's business dealings with Turkey; his consulting business was paid $530,000 to run a smear campaign against an opponent of the Turkish government.
Mueller follows the money, expands team
Trump and his team's financial links to Russia are a significant focus of Mueller's investigation, CNN reported Friday.
According to sources familiar with the probe, improper financial ties to Russia may be easier to prove than collusion, thus providing an easier path to possible prosecution.
In an explosive July interview with the New York Times, Trump said he considers his finances off-limits to Mueller's investigation and left the door open to possibly firing the special counsel if probe expanded to include them.
"I think that's a violation," Trump said.
The Senate effectively protected Mueller as members left for recess this week, announcing it would gavel in pro forma sessions every three days to prevent Trump from making any recess appointments. Trump has repeatedly leveled criticisms at Mueller, whom he's accused of having conflicts of interest, and has also said a special counsel "should never have been appointed in this case."
Mueller added Greg Andres, a white-collar criminal defense lawyer with experience in foreign bribery, as the 16th member of his investigative team this week.
Russians discussed Manafort in intercepted communications
CNN reported Friday that Paul Manafort became a focus of the FBI's Trump-Russia probe because of intercepted communications that showed Russian operatives discussing working with the president's then-campaign manager.
The operatives discussed conversations they said occurred with Manafort "encouraging" them to help the campaign, according to CNN.
A spokesperson for Manafort denied working with the Russians.
"Paul Manafort did not collude with the Russian government to undermine the 2016 election or to hack the [Democratic National Committee]," a spokesperson for the former campaign manager said in a statement.
Manafort, in fact, has ties to Russia going back more than a decade and was present at the now-infamous June 2016 meeting between Donald Trump Jr. and a Russian lawyer who supposedly had dirt on Hillary Clinton.
Trump initially claimed he was unaware the meeting took place, but it was reported Monday the misleading statement his son released to explain away the Trump Tower rendezvous was dictated by the president himself — a fact likely of interest to Mueller's probe.