A 17-year-old coding superstar just launched the ultimate meme app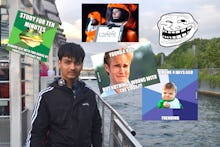 When 17-year-old Anushk Mittal got really into memes in 2016, he searched for the perfect meme-only social media app. When he couldn't find one, he decided to build the product himself.
The result was Memeois, the first app built solely for browsing, discovering, sharing and creating memes.
The app features an Instagram-like feed of meme images that users can heart, share or remix. You can follow and discover memes in certain categories like "college" or "studying." As you like and share memes to your own feed, Memeois uses machine learning to show you more memes that might fit your taste.
All memes, all the time
Mittal said that while he and many of friends have become more and more enthralled with memes, until now there hasn't been a centralized way to share and discover them. Sure, you can subscribe to a bunch of subreddits, join your college meme group and scroll Imgur, but none of those feeds are custom-tailored to your interests or personal taste in memes.
"Memeois takes the best features from other social media platforms but relates them all to memes," Mittal said.
"With so much negativity on all social media, Memeois is an all-meme platform to just relax or go pro with memes," Mittal wrote on his site announcing the product.
"With so much negativity on all social media, Memeois is an all-meme platform to just relax or go pro with memes" — Anushk Mittal
Users can submit their own memes to the Memeois database, but in order to build his initial meme collection Mittal scraped Reddit and other large sites. He then used an algorithm to sort out copyrighted images and personally reviewed the initial 4,000 memes that currently populate the app.
Because of copyright worries, most of the memes on the app right now are what some might call old school. When I first logged on I was greeted with a feed full of grumpy cat, success kid and rage comics. However, Mittal said he thinks the types of memes will evolve as Memeois' user base grows.
So far the app has proven popular among his peers. Mittal said he's gotten tons of positive feedback from friends and beta users. Some top engineers at Facebook are also fans, he said.
Earlier this year, Mittal was accepted into Facebook's accelerator program called FB Start. The program is aimed at helping early stage mobile startups get off the ground, and Mittal received $40,000 worth of tools and services as part of the program. He used these resources to build Memeois.
But despite spending nearly all his waking hours eyeballs deep in memes, Mittal doesn't take them as seriously as you might think.
"I just like browsing memes," he said. "I'm not that serious about them. I just saw other people also like browsing memes and so I thought I could create a platform where everyone could collaborate and create."
He said that he thinks memes are becoming more ingrained in culture because at the end of the day they help you relate to the world and communicate your emotions.
"Memes just help you relate to stuff, they make you laugh, or help you talk," he said. "Younger people are discovering more memes through technology, so that's why memes resonate more with young people. Memes really let you express your emotions and feelings in a better way."