VP Mike Pence shuts down suggestion he's eyeing 2020 run following 'New York Times' report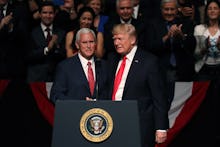 Vice President Mike Pence is already preparing for the 2020 presidential election — and if a recent New York Times report is to be believed, it may not be as vice president.
Amid President Donald Trump's plummeting approval ratings and continually erratic behavior, the New York Times reported Saturday that several Republicans are gearing up for potential presidential runs in 2020, including prominent Trump critics Ohio Gov. John Kasich and Nebraska Sen. Ben Sasse.
The most notable 2020 contender, however, is Pence, whose advisers, the Times wrote, "have already intimated to party donors that he would plan to run if Mr. Trump did not."
Pence, the Times reported, has maintained an unusually packed slate of events since ascending to vice president, "creating an independent power base, cementing his status as Mr. Trump's heir apparent and promoting himself as the main conduit between the Republican donor class and the administration."
The vice president's fundraising committee, Great America Committee, has even overtaken the president's own America First Action committee in disclosed donations, the Times noted, as members of the Republican establishment publicly wish to see the vice president take the reigns.
The Times report comes soon after the newspaper reported in July that the vice president was courting influential donors during frequent private dinners at Pence's official residence in Washington.
Even as Pence's aides reportedly discuss his presidential ambitions in private, though, the vice president himself has remained publicly supportive of Trump — including in the wake of the Times report.
Pence released a statement on Sunday responding to the Times article, describing it as "categorically false" and "disgraceful and offensive to me, my family, and our entire team."
"The American people know that I could not be more honored to be working side by side with a president who is making America great again," Pence wrote in the statement, which was published on Twitter by Times journalist Maggie Haberman.
"Whatever fake news may come our way, my entire team will continue to focus all our efforts to advance the president's agenda and see him re-elected in 2020. Any suggestion otherwise is both laughable and absurd," the statement continued.
Trump adviser Kellyanne Conway, too, "unequivocally" pushed back against the Times report on Sunday, declaring it to be "complete fiction" and "fabrication" in an interview on ABC's This Week.
"It is absolutely true that the vice president is getting ready for re-election in 2020 — for re-election as vice president," Conway said.
"Vice President Pence is a very loyal, very dutiful, but also a very effective vice president — [an] active vice president — with this president. He is a peer to this president in the West Wing," she added.