Former CNN conservative commentator Kayleigh McEnany joins Trump's "real news" initiative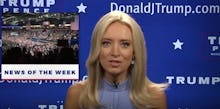 When conservative commentator Kayleigh McEnany announced on Saturday that she was leaving CNN in order to pursue a new role, she was vague about what that role might be.
The next morning, she was broadcasting out of a room in Trump Tower.
On Sunday, the official Twitter account for Team Trump tweeted that McEnany would be bringing "the news of the week" to the American people. That news, at least in McEnany's first video, includes the dubious claims that Trump has created more than 1 million jobs since taking office and that immigrants are depressing the wages of the American worker.
Although those claims are largely unsupported by the data, McEnany, who sits in front of a screen emblazoned with Trump's branding, signs off by telling viewers that her reporting is "the real news."
The McEnany-anchored video appears to be part of a Trumpland initiative to combat so-called "fake news" — a term Trump, his inner circle and some in his party use to smear the mainstream media — with what Team Trump calls "real news" — that is, a Trump-friendly spin on the president's tenure in office.
"I bet you haven't heard about all the accomplishments the president had this week because there's so much fake news out there," Lara Trump, the president's daughter-in-law, said in an earlier installment of the series.
BuzzFeed's report on the initial video found that the mainstream media had, in actuality, extensively covered the contents of Trump's video. It is unclear whether the former CNN commentator or the president's daughter-in-law have an official role in the president's White House communications team. It is also unclear who is funding the series, though CNN noted Sunday that the video does not appear to be paid for by the White House.
Evan McMullin, a former independent candidate for the U.S. presidency who ran against Trump and Hillary Clinton in 2016, criticized McEnany's video as "the type of propaganda you'd see in North Korea."
At time of publication, McMullin's tweet has almost 4,000 retweets — more than four times as many as McEnany's video itself.