'Hot Mic' podcast: Senate protects Mueller, Pence's 2020 plans, Miss Universe Pageant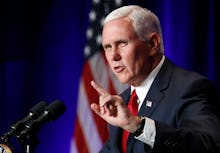 Listen and subscribe to the Hot Mic podcast from your mobile device:
Here are the important stories to know for Monday, August 7:
1. Two bipartisan groups of senators have put forth bills that would make it harder to fire Mueller.
2. According to a New York Times report, Vice President Mike Pence is gearing up for a presidential run in 2020.
3. A Muslim woman made history at the Miss Universe qualifier competition by wearing a kaftan during the swimsuit round.
Direct from Mic's newsroom, Hot Mic keeps listeners informed with a daily run-down of top stories, breaking news and analysis from our news team.