In August, watch Republican town halls for signs of trouble in the GOP agenda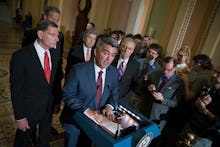 This is Mic's daily read on Donald Trump's America. Welcome to the political newsletter that would love to know how many Republicans honestly want to speak with voters in August.
Want to receive this as a daily email in your inbox? Subscribe here.
What we're watching:
Today: Watch town halls in August for signs of what will happen in September.
More: A new round of North Korea sanctions passed at the U.N.
Even more: Trump is back to praising Jeff Sessions — instead of threatening his removal.
Yes, more: Republicans are saying they doubt Trump will fire Robert Mueller, as the deputy attorney general says the special counsel can investigative whatever he finds.
Trump's agenda today: No public events today. Trump is on a working vacation in Bedminster, New Jersey.
Watch Republican August town halls closely
Expect Republicans to take heat from all sides this month. With Congress facing a tough legislative agenda on a tight timeline in September, members of Congress will spend August at home — close to voters.
Democrats blasted the results of Republicans' first 200 days — amping up pressure on the GOP to deliver something big this fall. Progressive groups have promised to keep up the pressure on Republicans to not repeal the Affordable Care Act. They're also planning protests around tax reform.
None of that suggests Republicans will stop hearing from conservatives who say they want the ACA dead and gone — a message they started hearing in town halls seven years ago. Sensing frustration from within his own party, House Speaker Paul Ryan said in his Wisconsin home district: "This is the third time in 100 years we've had this alignment of government that we've got to get it done or else I'm really worried our country will continue down a bad path."
So far, only 13 Republicans in the House have announced August town halls, as tracked by Town Hall Project. Only two GOP senators have town halls scheduled. One of those senators is Jerry Moran (R-Kansas), who announced he was a "no" vote on the Senate health care vote at a key moment last month after pressure at town halls. Of the 177 members of Congress who have not held a town hall since January, 150 are Republicans, according to the group.
Yet another example of why the GOP may avoid these town halls altogether: Colorado Sen. Cory Gardner's recent experience. His first in-person town hall in more than a year attracted voters angry over his votes to repeal and replace the ACA.
News and insight you cannot miss:
The United Nations passed new sanctions on North Korea. The country responded by saying it will deliver "thousands-fold" revenge against the U.S. for driving the sanctions. Secretary of State Rex Tillerson, traveling in Asia, said North Korea should stop its missile tests — at which point the U.S. would be open to negotiation.
Trump praised Attorney General Jeff Sessions for tripling leak investigations since January. That's a turnaround from the criticism Trump recently leveled at Sessions on Twitter. Part of the leak focus involves reviewing when the Department of Justice can subpoena a journalist — a development that alarmed press freedom groups.
White House adviser Kellyanne Conway and Sen. Ron Johnson (R-Wis.) said Sunday they don't expect special counsel Robert Mueller to be fired. Sen. Tom Cotton (R-Ark.) said, "I don't see them going very far," of two bipartisan proposals to prevent Trump from firing Mueller. And on Fox News Sunday, Deputy Attorney General Rod Rosenstein said Mueller can investigate whatever he finds as part of the Russia probe.
California Gov. Jerry Brown said the Democratic Party should not make being pro-choice a "litmus test" to run for office as a Democrat. That follows similar statements from Rep. Nancy Pelosi (D-Calif.), the minority leader, and Rep. Ben Ray Luján (D-N.M.), the head of the Democrats' House campaign arm.
Former CNN conservative commentator Kayleigh McEnany joined Trump's "real news" initiative.
The Trump administration has significantly eased up on Wall Street compared to the Obama administration — with fines dropping by hundreds of millions of dollars in Trump's first six months.
The New York Times dove into how the Trump administration is opening up public lands to coal mining.
U.S. political and military support for groups fighting ISIS is increasing in Syria.