No tent, no problem: These companies want you to go camping, but without any of the hassle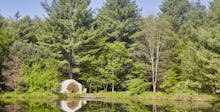 Camping is a classic American past time, but one that hasn't evolved much. "Campgrounds are legacy industries that haven't changed since the Civil War," Michael D'Agastino, founder of camping company Tentrr, said in an interview, calling the basic infrastructure of camping "broken."
"It's bereft of technology and in a dramatic need of an update," he said.
This is starting to change as Tentrr, as well as competitors like HipCamp and the luxe Collective Retreats target leisure campers and adventure seekers who aren't ready to invest in a tent or substantial outdoors gear, but aren't quite looking for a manufactured "glamping" experience, either.
D'Agastino's critique of outdated camping rang true to me. As someone who seeks outdoor experiences away from the frenetic everyday of New York City, I have not once been camping in my adult life. It all sounds like a lot of work for little reward. Would it really pay to buy a tent and a sleeping bag? And where in the world would I store those things when not camping?
I'm not alone in my indifference around planning a camping adventure. According to D'Agastino, 40% of first-time Tentrr users have never been camping before, leading me to believe convenient camping is something city dwellers want. The founder said Tentrr makes camping "very accessible," while still leading people to feel like they experienced something, and weren't simply served it. You might not pitch a tent or cook a fish you caught with your hands earlier in the day, but, as D'Agastino put it, "You breathed fresh air, you built a campfire and you sat under the stars. There's no butler that's going to bring you a silver tray of croissants in the morning, but you've got a dry, comfortable place to sleep and a beautiful surrounding to enjoy."
Tentrr provided me with accommodations for one night so I could test out the company's services. On a recent weekend, I drove up to a campsite called Frog Pond in Callicoon, New York. Tentrr's campgrounds — many of which private, vast backyards — are currently in the Northeast, and they have plans to expand to the Pacific Northwest by the end of the year.
HipCamp, probably the closest competitor to Tentrr in both services and pricing, offers a range of accommodations, including tents, tree houses, yurts, micro-cabins and vintage campers across all 50 states. Because of the varying housing options, HipCamp has two pricing models: Expeditions where campers pitch (and bring) their own tent range from $10 to $50 per night, while those with sleeping accommodations average around $50 to $150 per night. Comparatively, Tentrr sites start at $100 per night and average around $127. There's also the ultra upscale Collective Retreats, that run between $500 and $700 nightly. These definitely lean toward "glamping," as plush beds, wooden floors and electricity are part of the experience.
My Tentrr site was equipped with a private pond, woods extending farther than the eye could see and an outhouse, which was equipped with toilet paper and, impressively, didn't stink. Most importantly, the space offered bountiful off-leash running room for my dog, Gussie.
Being able to bring Gus was a major selling point for this trip, as she's not always welcome on vacations, and we would have had to board her otherwise. D'Agastino said having dog-friendly grounds was crucial to him, as he's experienced too many trips where the settings were too chaotic for his own pup, or where dogs were prohibited entirely.
"There's no butler that's going to bring you a silver tray of croissants in the morning, but you've got a dry, comfortable place to sleep and a beautiful surrounding to enjoy." — Michael D'Agastino, founder of Tentrr
It was an easy two-hour drive from Manhattan to Frog Pond, where the friendly camp keeper directed us to turn at the tree that had the cow's skull nailed into it. After parking the car in its designated spot, a lusciously green landscape shone behind some framing trees. The 10-plus-acres we'd be calling home for the night were picturesque and vast. Maybe it was the contrast in space, coming from our railroad apartment sandwiched between buildings, that made the initial sighting feel a bit overwhelming.
Tentrr outfits every campsite with its canvas tent and a set of Adirondack chairs, as well as a fire pit, a picnic table and a tall cabinet stocked with cooking necessities like utensils, dishes, olive oil, salt and pepper were within close proximity. All Tentrr campsites are consistent in this regard — supplying the same roster of amenities along with the same canvas tent. "We want to standardize the experience so that no matter where you go geographically, you know what you're going to get," D'Agastino said.
Competitors like HipCamp do not share the promise of sameness. "There's options for the seasoned camper who will pack in their own water to a primitive tent site, and for folks who are trying camping for the first time, where they don't have to bring anything with them," Rachel Barge, the head of HipCamp's marketing, said in an email.
Part of Tentrr's standardization is for comfort's sake, and part of it extends to benefit the environment. "What Tentrr really is is a new model for global sustainable tourism," D'Agastino said. Beyond upstate New York, there are hundreds of markets and dormant woods and fields that could support campsite set-up, which uses significantly less water than a night at a hotel. Not standard, but our campsite was also equipped with a floating dock on the pond as well as a kayak our host told us we were welcome to use.
The tent itself was more upscale than anything an amateur camper would pitch on their own, but it, in no way, represented anything that the word "glamping" brings to mind. It sat on a raised wooden platform and zipped twice to prevent entry from unwanted visitors — though this element didn't completely eradicate mosquito bites. There was a queen-sized air mattress on top of a cot that served as an acceptable bed for one night. Campers can either bring their own bedding or pay an extra $35 for a bedding kit that provides all the essentials.
After a night of grilling, eating s'mores and throwing a ball to Gussie until it got lost under the bushes, it was time for shut-eye in our double-enforced tent. A few extra layers would have served us well in the mid-50 degree darkness that is allegedly rare for summer — but the chill helped affirm that we were really, truly camping.
We woke early without an alarm. It was freezing, the grass was wet and a hazy fog sat in the air — all reminiscent of sleepy mornings at summer camp. It was these uncomfortable moments that felt most special: We were breathing in the new day's air while it seemed like even our surroundings were still dormant. A hassle-free weekend in the woods is something I'd absolutely do again, but with more sweats packed in the car. After all, in New York, the city that really never sleeps, this kind of experience just can't be replicated.