Joe Scarborough criticized young people for choosing video games over war. It didn't go over well.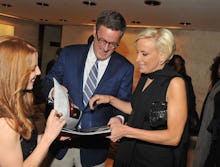 Thanks to Morning Joe host Joe Scarborough, we finally found something millennials aren't killing off — their own generation in foreign wars, apparently.
In a tweet that one could charitably describe as "ill-advised," Scarborough laid out his gripes about the youths of today, and the internet hasn't stopped roasting him since. Let's take a stroll through the burn ward.
Joe Scarborough's tweet about World War II and "gamers" leads to nonstop roasts
On the morning of Aug. 7, Scarborough posted a tweet with a link to an American Conservative article titled "Deforming Teens' Moral Imagination," wherein author Rod Dreher block-quotes something a reader wrote him about teens these days and how smartphones are turning them into isolated misanthropes.
"Young men in the 1940s liberated Europe from Nazism and the Pacific from the Japanese Empire," Scarborough tweeted. "Today, too many stay home playing video games."
Was Scarborough, who was once an outspoken Iraq War supporter, right to seemingly criticize the next generation for preferring video games over entering combat? Twitter had some thoughts.
Other posters were quick to cheekily (and sometimes not-so-cheekily) point out that Scarborough himself has never been to war in spite of being in prime soldiering age for quite a few of them, but others took it upon themselves to remind Morning Joe that war isn't actually a noble generational pursuit.
Still, a few contrite individuals promised to do better and die in a global conflict at Scarborough's request:
Given Scarborough's own admission that he's a gamer, we may have reason to suspect he's got an ulterior motive when talking about how too many young people are obsessed with video games.
Additionally, who's to say that more and not fewer video games aren't the answer to geopolitical conflicts, both present and past?
As Scarborough's mentions are learning, there's two sides to every equation. But don't worry, Joe — thanks to the next Call of Duty, soon you'll be able to relive all the WWII valor you want in the comfort of your own home. Again.
Mic has reached out to Scarborough and will update with any response.
More gaming news and updates
Check out the latest from Mic, like this deep dive into the cultural origins of Gamergate. Also, be sure to read this essay about what it's like to cosplay while black, a roundup of family-friendly games to play with your kids and our interview with Adi Shankar, producer of the animated Castlevania Netflix series.