The best 11 beach towns to visit in the offseason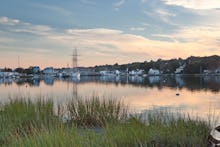 Beach vacations don't have to end after Labor Day, and you don't have to live in sunny Hawaii or Florida to extend your summer a little longer.
East Coast beach towns traditionally empty out after Labor Day, though temperatures don't tend to drop until late September. Even October and November's chilly breezes can make for a romantic ambiance in typical summer vacation destinations — often at a much lower cost and with less crowds.
Mic enlisted Hipmunk to curate exclusive data on the price drops of beloved beach towns from peak season to after Labor Day to show how much you'll save by beaching after August.
Nantucket, Massachusetts
Average price drop: 48% discount, with average pre-Labor Day hotel and rental prices at $626 and $323 after Labor Day
While plenty of affluent New England families take up summer residence on this 105-square-mile island off Boston, 11,000 people call the island home year-round, and the start of offseason may be one of the most magical times to explore this former fishing village. While the average high temperature in September hovers around 70 degrees, that's not too different from the 75- and 76-degree highs in July and August and the always chilly, 65-degree water isn't much warmer in prime season than after Labor Day.
Stay at Greydon House, a Roman and Williams-designed property in town that opened last summer and is just a 10-minute walk to the beach. The stylish hotel is great for cozying up in hotel linens on a brisk fall day, and the proximity to Nantucket's shops and restaurants (many of which offer offseason deals) is prime for a relaxed weekend away. In October, visit for the annual Cranberry Festival to harvest your own cranberry sauce straight from the bogs.
Mystic, Connecticut
Average price drop: 11% discount, with average pre-Labor Day hotel and rental prices at $258 and $231 after Labor Day  
While a Julia Roberts sighting is pretty much unfeasible, you can still eat at the namesake pizzeria, Mystic Pizza — and it'll be much calmer after official beach season.
Walk through the historic Mystic Seaport, which dates back to 1929 and features a working preservation shipyard, a re-created 19th century seafaring village, historic gardens and all the on-the-water Instagram opportunities you've been itching since your last beach trip. Those intrigued by maritime life can also visit the Mystic Aquarium, which is home to New England's only beluga whales, an endangered African penguin and more sea life. Shoppers can browse boutiques in Downtown Mystic and load up on nautical decor at Mystic Knotwork. If eating pizza for every meal isn't your thing, make a reservation at the Engine Room, known for its burger hall of fame.
To sleep, check into the recently renovated Spicer Mansion or the Inn at Mystic, which has pristine grounds for you to stroll in the autumnal weather. Six public beaches nearby means there's plenty of lounging potential, but with so much to do in town, why get your clothes all sandy?
Provincetown, Massachusetts
Average price drop: 40% discount, with average pre-Labor Day hotel and rental prices at $330 and $197 after Labor Day   
An LGBT haven in Cape Cod, beachy Provincetown is truly a year-round destination.
Make a reservation to dine at Front Street, an Italian restaurant in a charming Victorian mansion and another at Mac Seafood, to load up on sushi and raw bar platters. To sing off all that seafood (and prepare for another meal at The Mews) head to Governor Bradford at night for drag karaoke that comes highly recommended.
Check into the Brass Key Guesthouse, where historic individual buildings surround a private courtyard, complete with a pool, to make this post-summer trip feel like a true escape.
And don't forget to snag some legendary pink-frosted cupcakes from ScottCakes before you head out.
Newport, Rhode Island
Average price drop: 22% discount, with average pre-Labor Day hotel and rental prices at $385 and $300 after Labor Day   
A former vacation haven for the rich, this seaside Rhode Island town becomes even more special once the hoards clear out. Tour historic mansions formerly owned by turn of the century titans of industry, like the Vanderbilts and Astors, on group tours or self-guided audio tours. All the preserved homes are open through Oct. 9, with many open to visitors year-round.
Newport events throughout the fall include the Newport Mansions Food & Wine Festival, Norman Bird Sanctuary's Harvest Fair, Bowen's Wharf Seafood Festival and the Newport International Boat Show.
Check in to the Chanler at Cliff Walk, a mansion on the waterfront that lets you live almost like the Gilded Age vacationers of old Newport.
Kennebunkport, Maine
Average price drop: 43% discount, with average pre-Labor Day hotel and rental prices at $403 and $228 after Labor Day     
That Maine vacation you never quite made happen this summer is still yours for the taking. Better yet, autumn may be the best time to visit the lobster state. Soft shell lobsters — lobster that have shed their shells and are in the process of growing new ones — are practically brining in the salty ocean juices, and are caught from July to December, so fall is prime time for lobster eating.
Fill up on lobster rolls at the Clam Shack and crack into a whole lobster at Nunan's Lobster Hut. You'll also want to take advantage of the fall bounty at Earth at Hidden Pond and stock up on local snacks to hake home at Farm + Table. Those eager to get out on the water can go lobstering with Rugosa Lobster Tours or kayak with Coastal Maine Kayak.
If you're pining for summer-style accommodations, reserve a glamping tent with Sandy Pines Camping, but if you prefer to sleep indoors, browse the cottages, historic inns and beachside accommodations at the Kennebunkport Resort Collection, which will be offering a third night free for reservations after Labor Day.
Cape May, New Jersey
Average price drop: 51% discount, with average pre-Labor Day hotel and rental prices at $417 and $203 after Labor Day     
The best time to walk around admiring colorful Victorian mansions with a warm pumpkin spice latte in hand? After Labor Day, of course. As the summer crowds clear out of Cape May, take advantage of the relaxed pace of this beach town on the farthest end of the Jersey Shore.
Also enjoyable in the crisp fall air: The Washington Street Mall, a three-block, car-free shopping area packed with boutiques, souvenir shops and plenty of restaurants to fuel you on your fall shopping spree. Make a dinner reservation at Freda's Cafe, a cozy New American-style restaurant specializing in innovative seafood and steak dishes: think mussels with a thick blanket of cheese melted on top.
Book a room at the luxurious Congress Hall Hotel, where a special Cape May Harvest package from Sept. 8 to Oct. 29 includes a bike rental and picnic lunch, with rooms starting at $139 per night.
On your way out of town, make a stop at Beach Plum Farm to stock up on in-season produce and grab a farm fresh lunch.
Asbury Park, New Jersey
Average price drop: 28% discount, with average pre-Labor Day hotel and rental prices at $276 and $197 after Labor Day     
This Jersey Shore destination is accessible from Manhattan by public transit (train and bus), making it an easy offseason beach getaway for city dwellers. The quirky, artsy coastal town is vibrant all year round. Walk the boardwalk in the cool fall air and play skeeball at the Silverball Museum Arcade, a warm-up for another round of the game at Johnny Mac, which serves free pizza with every drink purchase.
Visit the weekend of Sept. 23 to shop from local artisans at the Asbury Park Fall Bazaar or visit the Antique Emporium any weekend to browse old odds and ends. Of course, you'll also want to catch a concert or two at the legendary Stone Pony, where New Jersey mega stars like Bruce Springsteen, and Jon Bon Jovi got their big breaks.
Check into The Asbury Hotel, which has bunk rooms that sleep up to eight for a weekend party. In-room tents add to the allure and there are activities like ping-pong and pinball machines, as well as art exhibits and concerts at the property's in-house club, The Baronet. A rooftop garden also hosts live music, movie nights and stunning sunset views.
Montauk, New York
Average price drop: 11% discount, with average pre-Labor Day hotel and rental prices at $438 and $390 after Labor Day
The Hamptons' much chiller, cooler sibling is at its best after peak season, when the city folks and Long Islanders head back home and the weeks are almost exclusively for locals. With a population of roughly 3,300 people year-round, this East Hampton small town has more than enough going on after the beaches empty out.
Go sailing with Grey Lady Charters, which offers an opulent lobster and champagne cruise for four ($1,100) or keep things more low-key by dining at local seafood shacks like Dave's Gone Fishing. Grab fried chicken at local favorite Herb's Market and build up an appetite for more feasting by renting a bike from Montauk Bike Shop. Or take advantage of Montauk's several hiking trails, accessible year-round and perhaps most scenic when the leaves change in early autumn.
Brunswick Islands, North Carolina
Average price drop: 7% discount, with average pre-Labor Day hotel and rental prices at $130 and $121 after Labor Day
The Brunswick Islands are a stress-free destination just off the North Carolina coast. This cluster of three islands contains 45 beaches, which includes the car-free Bald Head Island — a nice respite for those eager to escape any semblance of traffic. Temperatures in the fall are on average 76 degrees in September and 66 degrees in October.
Golfing, fishing and soaking up the salty ocean breeze while reading underneath the shade of a Bermuda palm are primary non-summer activities. Autumn visitors can plan to check out the Wooden Boat Show on Sept. 30, the U.S. Open King Mackerel Tournament and the 37th Annual North Carolina Oyster Festival from Oct. 21 to Oct. 22.
Take advantage of offseason beach house rentals, which start at just over $100 on Airbnb for entire condos and cottages come fall.
Torrance, California
Average price drop: 25% discount, with average pre-Labor Day hotel and rental prices at $173 and $130 after Labor Day
Beaches in SoCal are open pretty much year-round, so head to Torrance in the fall to soak up the sun and sip up some autumnal brews from the local craft brewhouses.
Beyond beer, Torrance is also locally known for its ramen shops, including the Santouka counter inside Mitsuwa Marketplace.
Suburban enthusiasts who want to shop can also spend non-beach times at one of America's largest shopping malls, the Del Amo Shopping Center. If you're not into shopping at major stores, do a walking tour of Historic Torrance.
Lake Geneva, Wisconsin
Average price drop: 22% discount, with average pre-Labor Day hotel and rental prices at $241 and $187 after Labor Day
Midwesterners flock to this lake getaway spot with beautiful views of foliage and ample opportunities for brisk autumn strolls and hikes. If you're tempted to swim, the Timberridge Lodge has an indoor water park suitable for all ages of water slide lovers. Other adult-friendly activities include a plethora of breweries and wineries as well as apple orchards open to visiting fruit pickers.
Check in to the Grand Geneva, which has a spa, golf course and pristine grounds you don't have to leave for an entire weekend.