Report: The USDA won't let its staff use the phrase "climate change" in any of its work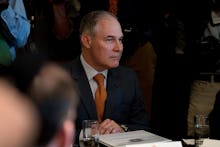 Staff for the United States Department of Agriculture have been instructed by a senior staffer to avoid using the phrase "climate change," according to a report in the Guardian.
According to a series of internal emails from the USDA obtained by the outlet, Bianca Moebius-Clune, director of soil health for the Natural Resources Conservation Society of the USDA, instructed her staff to swap out politically charged phrases like "climate change" for "weather extremes" and "reduce greenhouse gasses" for "build soil organic matter, increase nutrient use efficiency."
The NRCS director reportedly encouraged her staff to pass along those departmental guidances on preferred language, maintaining that those instructions "won't change the modeling, just how we talk about it."
Moebius-Clune's directive, which the Guardian characterized as censorial, appears to minimize human impact in the overheating of the planet.
Though it is unclear from the emails obtained by Guardian where the instructions in Moebius-Clune's staff note originated, her missive marks the latest mandate from the Trump administration that rejects the overwhelming surplus of scientific evidence supporting human-caused climate change.
In July, Mic reported that the U.S. Department of the Interior pulled a climate scientist from a visit to a national park in Montana with Facebook founder Mark Zuckerberg, a decision one source saw as an attempt to minimize attention toward climate change.
In May, President Donald Trump announced that he would withdraw the United States from the Paris agreement, an international accord signed by former President Barack Obama and the vast majority of the world's nations pledging to take aggressive action towards reducing carbon footprints.
Trump's decision drew fierce criticism internationally, as many saw it as a signal that the United States would not be a willing ally in curbing carbon emissions under Trump.
But it was hardly Trump's first signal: In December 2016, then President-elect Donald Trump nominated Scott Pruitt to lead the Environmental Protection Agency. As attorney general of Oklahoma, Pruitt, who once described himself as a "leading advocate against the EPA's activist agenda," sued the agency he would later lead over its enforcement of the Clean Power Plan, a keystone of Obama's legacy on climate change that sought to curb greenhouse gas emissions.
In March, one month after Pruitt was confirmed as the EPA's leader, the president issued an executive order that effectively eviscerated the CPP. That same month, the White House communications team came under fire for seemingly cutting and pasting a full paragraph from an Exxon-Mobil press release in its own missive to reporters.
Four-thousand pages of Scott Pruitt's emails obtained by the Associated Press in June reveal a close coordination between the former Oklahoma attorney general and fossil fuel industry giants.