A Minnesota mosque was bombed — and America's failed anti-extremism policies are to blame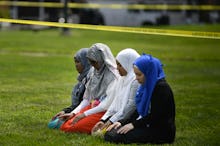 The FBI and the Bureau of Alcohol, Tobacco, Firearms and Explosives are investigating a bombing that took place on Saturday at the Dar Al-Farooq Islamic Center in suburban Minneapolis while worshippers were performing their morning prayers.
The FBI confirmed that the blast was caused by an improvised explosive device, or IED, that destroyed the imam's office, shattered windows and smoked up the entire building. Minnesota Gov. Mark Dayton called the bombing an "act of terrorism" when he met with local leaders at the mosque on Sunday. No one was injured in the blast and authorities are unsure of the motive or culprit behind it.
What is for certain is that this is not an isolated incident. The mosque was a frequent target for menacing voicemails, hateful emails and threatening anti-Muslim letters. On Aug. 1, vandals attacked the local Muslim Cemetery Al Magfirah in Castle Rock Township in Minnesota. The cemetery was riddled with spray-painted swastikas, cuss words and a message that said, "Leave, you r dead," alongside damaged furniture and equipment.
Islamophobia and anti-Muslim attacks have been rampant in 2017. During the first three months of the year, the Council of American Islamic Relations estimated that there was an anti-mosque incident — whether it be by arson or a vandalism attack — every 2.5 days. Some activists are seeking a condemnation from President Donald Trump, but others say that alone won't quell this latest surge of anti-Muslim violence. In interviews, experts tell Mic that the Dar al-Farooq bombing is a byproduct of decades-long counterterrorism programs aimed at preventing Muslims from being radicalized rather than protecting them from the threat of radical anti-Muslim extremists.
"There is a clear yet often ignored connection between state violence and hate crimes," Dr. Maha Hilal, steering committee member of D.C. Justice for Muslims Coalition, a civil rights network, said in a phone interview. "State violence by virtue of singling out and targeted various communities, sends the message to society that it is OK — even legitimate — to perpetrate hate crimes again the same group with little, if any accountability."
Recent instances of state-sanctioned violence include Trump's travel ban, bombing campaigns in Syria and Iraq, military support for a Saudi-led airstrike campaign in Yemen and a Navy SEALs raid that ended in the deaths of numerous civilians and one U.S. citizen. But some of the more destructive acts of state violence predate the Trump administration.
The Obama administration announced the Countering Violent Extremism program in 2014 as an initiative to steer vulnerable people in the United States away from joining violent extremist groups. However, civil rights groups and public policy experts say CVE disproportionately singles out Muslim communities.
The Brennan Center for Justice, for example, said CVE promotes "flawed theories of terrorist radicalization which lead to unnecessary fear, discrimination, and unjustified reporting to law enforcement." The CVE program also encourages community leaders, school officials, health professionals, social workers and religious leaders to work with law enforcement to implement a surveillance and informant system within these Muslim communities. But Hilal, a researcher specializing in counterterrorism and national security, also said there is no solid computable research on what leads someone toward radicalization.
The Bush administration also had invasive programs like the National Security Entry-Exist Registration System, which forced Muslim immigrants to enter into a registry. Several immigrants were deported without proper cause. Laws like the 2001 PATRIOT Act criminalized Muslim Americans' right to free speech through invasive state-sponsored surveillance and indefinite detentions without upholding their basic right to due process.
Hilal said these programs inherently focus on the Muslim community and often depict them as terrorists and a threat to national security. Meanwhile, there is little emphasis or focus on the rapidly growing and dangerous threat of white supremacist violence and right-wing extremism on the institutional level.
The Trump administration made it clear that fighting right-wing extremism is not worth their money when its Department of Homeland Security rescinded a $400,000 grant to Life After Hate, a nonprofit organization dedicated to fighting white supremacist groups. In a period when hate crimes continue to surge and when Americans are more likely to be killed by a right-wing extremist than a Muslim terrorist, sources within the administration said in February they would rename the "Countering Violent Extremism" program to "Countering Violent Islamic Extremism."
The result is two-fold: Muslim Americans feel as if the institutions that are meant to defend their rights and provide security are marginalizing their communities at a time when they need support the most, and the government has failed to implement any concrete or effective initiatives to address the documented threats of white terrorism.
"Community members are told, in addition to local law enforcement, to contact their regional FBI offices, because they have the authority to open a case and are stronger at investigating them," Madihha Ahussain, special counsel at legal advocacy group Muslim Advocates, said in a phone interview. But she mentioned that it's challenging to report crimes or seek protection from law enforcement authorities like the New York Police Department given its history of widespread surveillance and use of informants in the local Muslim communities.
But what can be done?
Like many people within the Muslim-American community, Ahussain said the first order of business for the White House is to acknowledge the bombing at Dar Al-Farooq and condemn anti-Muslim violence. But the Trump administration has not issued a statement about the Dar Al-Farooq bombing yet and is known for its selective response on violent tragedies on American soil. For instance, it took days for the administration to mention the Portland stabbing attack, where a white supremacist stabbed two men to death when they tried to protect a black teenager and her Muslim friend. It also took the administration days to acknowledge the Kansas City shooting, where a white man shot two Indian men, killing one, because he thought they were Iranians.
"There is a problem where we're seeing [anti-Muslim] violence, but we're not seeing the type of response we think is necessary to address and thwart it," Ahussain said in a phone interview. "With the [political] climate we're in right now, it seems as though there's space available for these acts to take people because there hasn't been public condemnation or outcry from the top level of the administration."
Will a statement from the Trump administration prevent the next anti-Muslim extremist from bombing another mosque or physically attacking another Muslim American? Probably not, Hilal said.
"Any remark uttered will almost surely become meaningless once this administration formulates another executive order, law or policy aimed at distinctly targeting Muslims," Hilal said.