'Metroid: Samus Returns': Special edition, amiibo support and everything we learned on the new site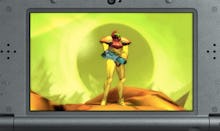 It's a good time to be a Metroid fan. Seven years have passed since the release of Metroid: Other M, and now we're getting both a brand-new Metroid Prime (albeit not with the original dev) and a remake titled Samus Returns for the Nintendo 3DS.
A new teaser site just dropped for the latter, and we're here to sift through everything we can find about the upcoming side-scroller Metroid: Samus Returns.
Metroid: Samus Returns 3DS: What we learned about the remake
The teaser site for the game offers a few hints at what players can expect from Samus Aran's first true side-scroller since 2004's Zero Mission. It's a completely rebuilt version of the Game Boy game Metroid II: The Return of Samus, promising "updated maps, gear upgrades, 360-degree aiming and powerful new abilities that revitalize classic Metroid II: Return of Samus gameplay."
Additionally, the site promises "updated SFX and an atmospheric remastered soundtrack arranged by veteran Metroid composers Kenji Yamamoto and Minako Hamano" to better help enhance the "haunting isolation, deep exploration, brutal environments and fierce battles" the teaser site promises from the remake.
Metroid: Samus Returns 3DS: Yes, there's amiibo compatibility and a special edition
Fans of plastic trinkets rejoice, the Samus Returns site also promises that two new amiibo, Samus in her iconic Varia Suit and a Metroid parasite ominously posed next to a shattered containment unit, will debut alongside the game when it's released in September.
If you don't want to shell out for either of those, don't worry. Much like with Breath of the Wild, both the Power Armor and Zero Suit Samus amiibo released with Super Smash Brothers will also be compatible with the new game.
If you're a longtime Metroid fan looking to celebrate the series' long-awaited return to form, there's also a special version of the game coming, which includes a physical copy of the game, a special CD with 25 tracks from the game series' timeline on it and an insert for the game featuring artwork from the original Game Boy release. It's not cheap, though, and will run you $49.99.
Hopefully there's enough to get you excited about to tide you over until it's released on Sept. 15.
More gaming news and updates
Check out the latest from Mic, like this deep dive into the cultural origins of Gamergate. Also, be sure to read this essay about what it's like to cosplay while black, a roundup of family-friendly games to play with your kids and our interview with Adi Shankar, producer of the animated Castlevania Netflix series.