After Grenfell, fires in Dubai's high-rises raise more concerns about building materials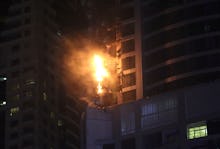 A small fire in a hotel in Dubai, United Arab Emirates, on Monday marked the third such fire in less than a week — and raises questions about building materials used in the city's many high-rises, as Reuters reported on Monday.
Monday's blaze at the Movenpick hotel in Dubai's marina district was quickly extinguished, and no one was injured, according to Reuters. However just one day earlier there was another small fire at a nearby building — again, no injuries were reported — and on Friday, a fire broke out in Dubai's 84-story Torch Tower, sending "flaming debris" falling to the ground below, CNN reported at the time.
The fire at Torch Tower, which was the tallest residential tower on the planet when it was completed in 2011, was the building's second fire.
Just months after a deadly fire at London's Grenfell Tower claimed at least 80 lives in June, the rash of recent fires in Dubai has ignited concerns about the heightened fire risks of high-rises.
The Grenfell Fire was widely believed to have spread quickly because of the materials used in the cladding on its exterior, which had been chosen as a cost-cutting measure during the tower's refurbishment, the BBC reported in July.
The materials used in Grenfell is believed to have been changed from a planned zinc cladding to a less fire-resistant aluminum type in order to save money, according to the BBC.
Residents of Grenfell Tower had reportedly complained about the lack of a building-wide alarm system or sprinklers, but the lack of safety measures combined with the polyester powder-coated aluminum cladding made the June fire, which started with a faulty refrigerator, so deadly.
Experts say that new building materials, combined with the high concentration of people in high-rise buildings, can make them more prone to fatal fires.
While those risks aren't new, landlords may be under more pressure to ensure the safety of their buildings since the Grenfell fire, according to Matthew Needham-Laing, a U.K.-based attorney and former architect whose practice deals with construction safety.
Needham-Laing said in an email on Monday that without knowing the specific cladding materials used in the buildings that have had recent fires in Dubai, it's difficult to say for sure if that was a factor in any — but more generally, he said, there are several factors that put high-rises at risk for fires.
"Whichever country you look at, generally the kitchen or kitchen equipment is near the top of the list of causes of fire, if not the number one source of fires," Needham-Laing said. And high-rise residential buildings mean more kitchens, which mean increased fire risk.
And, according to Needham-Laing, "added to the problem of concentrating dwellings in high-rise towers is the materials used to construct them," which may be new materials that individually pass muster, but combine to create conditions in which fires spread quickly.
"The more people you put in a building, particularly [a] residential building, the greater the fire risk is likely to be," Needham-Laing said. "This, combined with new materials which react in fire in ways which neither the regulatory authorities or designers of these buildings anticipate means that high-rise residential buildings can be more prone to fatal fires."
Those risks exist wherever there are high-rises — whether it's in Dubai or the U.K. or here in the U.S., Needham-Laing said.
However, both he and other experts agree that there are clear ways to reduce fire risks that building designers can apply anywhere. In an email on Monday, Aixi Zhou, a professor of fire safety engineering technology at the University of North Carolina at Charlotte, said those measures include selecting the most fire-proof materials available, like concrete or brick.
Building materials are just a start, other important fire safety measures include creating clear exits and installing sprinkler and smoke management systems, like the kind residents say were missing in Grenfell Tower. "In fire and life safety, redundancy is an important strategy," Zhou said. "Tragedies like the Grenfell tower occur when multiple fire protection measures fail."