'Overwatch': Popular streamers are unhappy with the game — and they're starting to play more 'PUBG'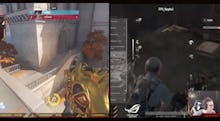 Overwatch was one of the biggest games of 2016 — and it's still going strong — but the online first-person-shooter from gaming behemoth Activision Blizzard is losing some of its biggest supporters to an unfinished video game created by an independent South Korean studio. Streamers, YouTubers and content creators are leaving Overwatch for PlayerUnknown's Battlegrounds, an up-and-coming title with great streaming potential.
Why is this happening? There are a few reasons that popular online gamers are picking PUBG over Overwatch — ranging from playstyle to toxicity in the gaming community — but no matter how you look at it there seems to be a pretty clear trend in the lucrative world of video game streaming.
Players are unhappy with the current competitive season in Overwatch
The reason some players are unhappy is because of the current competitive season and "meta." The meta is a term that describes which characters and team compositions are thought of as "the best" at any given moment. When the developers tweak a particular hero, the meta can shift.
Right now, the Overwatch community is a bit frustrated and bored with the current meta, arguing that it rewards a really specific and repetitive style of play. This is the reason popular streamers like Kephrii, who has over 200,000 followers on YouTube and almost 250,000 followers on Twitch, are drifting away from Overwatch and starting to play more PUBG.
Kephrii is known for his skills with Overwatch sniper Widowmaker, and has developed a huge Reddit following. His departure from the game is a pretty big hit for the Overwatch community. And he's not alone in his frustration: Other streamers and many regular players have announced they're taking a break from Blizzard's team-based first-person shooter.
Toxicity is tearing apart the Overwatch community
The other main reason people seem to be giving up on Overwatch is because of how toxic the community has become. One of the most popular Overwatch YouTubers, Stylosa (over 600,000 followers), has also talked about his frustration with Overwatch toxicity in numerous videos.
In a video explaining why he wanted to cut back on the amount of Overwatch videos he was making, he suggests a main cause was the flack he was getting from the community. He adds that he will occupy some of his channel with other games, including PUBG.
Force Gaming, another popular YouTuber with over 750,000 followers, has been voicing his issues with Overwatch for a while now. He was one of the first popular YouTube personalities to mention PUBG at all.
For Force Gaming, the main issue is that he wants to be himself in video games, while Overwatch forces players to work as a team. However, he also points to the communities toxicity as an issue.
There's a new hope for Overwatch — and it's called Deathmatch mode
The saving grace for Overwatch amay be a new Deathmatch mode, currently available on the public test realm where new features are typically introduced. All of the streamers and YouTubers mentioned in this article have responded positively to Deathmatch, and the new mode may be able to solve many of the problems the Overwatch community is struggling with.
Toxicity isn't really a problem because when you're in Deathmatch because you're not playing on a team. You also don't need to depend on other people to win. That may be a wonderful alternative for streamers, it's unclear if the new mode will be an adequate long-term solution for the game.
Deathmatch might be helping now, but it's probably only a Band-Aid to bigger problems. Blizzard still needs to address Overwatch's larger toxicity issues if it wants to hold onto the community it has.
More Overwatch news and updates
For more on Overwatch, check out the rest of what Mic has to offer. Here is an intro to the cute, new "Wholesome Overwatch" subreddit, a look at some gorgeous Overwatch-themed PS4 and Xbox One controllers, a cool Easter Egg in the new Horizon Lunar Colony map and a criticism of Blizzard's failures in its design of Symmetra.