Press freedom groups concerned over Israel's plan to ban Al-Jazeera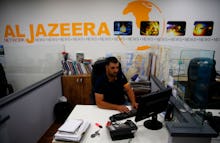 Israel announced that it would ban the news organization Al-Jazeera from its airwaves, revoke journalists' credentials and kick journalists out of the news network's Jerusalem bureau, a move that press freedom groups immediately criticized for being undemocratic.
On Sunday, Israel's communications minister Ayoub Kara announced a plan to ban the Qatari state-funded broadcaster and block it from the airwaves, saying that the station was inciting violence against Israel, supporting terrorism and encouraging religious radicalization. (Kara did not provide examples of how the network did those things.)
"Freedom of expression is not freedom to incite," Kara said. "Democracy has limits."
The move comes after Israel Prime Minister Benjamin Netanyahu threatened to shut down Al-Jazeera's Jerusalem office in July.
Al-Jazeera has repeatedly and vigorously denied the charges made by Netanyahu and other Israeli officials. In a statement, the broadcaster said that it would "take the necessary legal measures" to contest.
"Al-Jazeera denounces this decision made by a state that claims to be the 'only democratic state in the Middle East,'" the statement read, in part.
It's unclear when the Israeli government will act on the plan and introduce a legal amendment to formally adopt the measures, which would be required to implement some parts of the ban. But the plan comes amid increasing pressure on the Qatari state-owned broadcaster, which has also been targeted by four Arab states as part of an ongoing diplomatic crisis in the region.
In June, Saudi Arabia, Egypt, Bahrian and the United Arab Emirates demanded that Qatar shut down the media company and its affiliates to end an ongoing diplomatic crisis and regional boycott of Qatar. The demand to shut down Al-Jazeera from those countries, and the shutdown of Al-Jazeera bureaus in Saudi Arabia and Egypt, have been met with intense criticism from press freedom groups and human rights organizations, including the United Nations. Kara cited the steps those countries have taken to ban Al-Jazeera when he announced Israel's plan to take similar measures.
Following Kara's announcement, press freedom groups and human rights organizations immediately condemned the Israeli government's plan, calling it "undemocratic." The groups urged officials not to engage in media censorship by banning Al-Jazeera.
"Censoring Al-Jazeera or closing its offices will not bring stability to the region, but it would put Israel firmly in the camp of some of the region's worst enemies of press freedom," Sherif Mansour, the Committee to Protect Journalists' Middle East and North Africa Program Coordinator, said in a statement. "Israel should abandon these undemocratic plans and allow Al-Jazeera and all journalists to report freely from the country and areas it occupies."
The move was also slammed by the press freedom group Reporters Without Borders.
"What is ridiculous is that a country that boasts of being a democratic model for the regions falls into line with countries that are notorious enemies of media freedom," RSF said in a statement posted to its website. "Instead of taking advantage of the desire of certain Gulf states to censor Al-Jazeera for purely political reasons, the Israeli authorities could instead set an example by defending media pluralism, which is essential."
Israeli officials have gone after Al-Jazeera in the past for its coverage of the ongoing Israel-Palestine conflict. In 2014, according to the Washington Post, former Foreign Minister Avigdor Lieberman called for the channel to be banned in the country. That effort was not ultimately successful.