'Overwatch' Summer Games 2017 Start Time Countdown: Here's when the event update will likely debut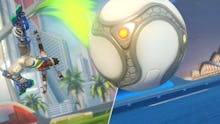 Update: It's live. You can grab the update now and jump into the Overwatch Summer Games 2017.
Take a break from the heat with some ice cream and Overwatch. It's been a little over a year since the first Summer Games and a ton has changed in Blizzard's online shooter — we've had new characters, new maps and a ton of new events. Now the Summer Games are back.
There's something for everyone with the latest Overwatch event, whether that's new skins of seasoned players or the return of older special cosmetics for newbies. Plus, Lucioball was kind of fun, right?
We still don't have an official release time for the Overwatch Summer Games 2017, which kick off on Tuesday. But based on the game's yearlong event history we can make an educated guess.
Overwatch Summer Games 2017 Release Time Countdown: Here's when the event update will probably start
Given the history of all previous Overwatch events, we can expect this update to release at around 2 p.m. Eastern time. That's when pretty much every single other event and update has gone up in the past.
However, it's possible the Summer Games 2017 could arrive three hours early at 11 a.m. Eastern, which is when the Overwatch Anniversary was released. At the time, players speculated it was because Blizzard wanted to give European players more time to play the latest update, rather than release it during the night in Europe.
Other updates since then have been on the regular 2 p.m. Eastern schedule, but this earlier release time could become the standard for seasonal events. That would give players a little extra time try out new modes and earn special skins.
Either way, it's only a matter of hours before the Overwatch Summer Games return.
Aug. 8, 2017, 2:04 p.m.: This story has been updated.
More Overwatch news and updates
For more on Overwatch, check out the rest of what Mic has to offer. Here is an intro to the cute, new "Wholesome Overwatch" subreddit, a look at some gorgeous Overwatch-themed PS4 and Xbox One controllers, a cool Easter Egg in the new Horizon Lunar Colony map and a criticism of Blizzard's failures in its design of Symmetra.