Donald Trump's attacks on veterans tend to come back to haunt him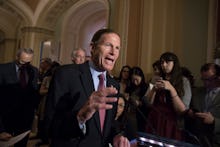 This is Mic's daily read on Donald Trump's America. Welcome to the political newsletter that thinks you should watch threats from Bernie closely.
Want to receive this as a daily email in your inbox? Subscribe here.
What we're watching
Today: The danger for Trump in his personal attacks.
More: The city of Chicago is suing the president over his sanctuary cities policy.
Even more: The president's approval rating has dropped, in one poll, to a third of all Americans.
Yes, more: The Trump administration may be suppressing a key climate change report.
Trump's agenda today: Participating in a briefing on the opioid crisis with Secretary of Health and Human Services Tom Price.
Trump's veteran bashing is doing him no favors
Sens. John McCain (R-Ariz.) and Richard Blumenthal (D-Conn.) are from different political parties. But they've both been the target of attacks by Trump on their military records.
Trump's quote about McCain is infamous; it was one of the first statements Trump made after he launched his presidential campaign that drew widespread derision. His comment that "I like people who weren't captured" drew a response from McCain that Trump owed veterans an apology.
But more importantly, it began a period that would see no good will built up between McCain and Trump. And when Trump needed McCain most — to cast the deciding vote on health care last month — McCain chose to kill the legislation Trump desperately wanted to pass.
As a Democrat, Blumenthal has less power over legislation than McCain. But the former Connecticut attorney general has still been a leading voice in the Senate, pushing for answers in the Russia investigation. Before that, he was looking to stall Trump's nominations.
Trump's response? He hit Twitter to distort past comments Blumenthal made about his military record. Trump has attacked him multiple times, most recently on Monday morning. And each time, Blumenthal's following grows — and he uses the spotlight to hammer Trump about the Russia inquiry.
This is yet another example of Trump's lack of discipline hurting him in the long run. He attacks both McCain and Blumenthal on their records as veterans, only to see those attacks backfire through deeper opposition from the senators. McCain has been a thorn in Trump's side since the "captured" comment in 2015, while Blumenthal's profile has grown with each attack. And when political victories are hammered out via negotiation and compromise — a model McCain called for a return to last month — personal relationships are beneficial, an area where Trump is short on goodwill.
And by the way — North Korea says it will only use nuclear weapons against the U.S. Aren't there bigger problems for Trump to face than tweeting about Blumenthal?
News and insight you cannot miss:
Trump's overall approval rating is down to a third of Americans — with support entering negative territory among whites without a college degree. His support is dipping among Republicans too.
But Trump is not lying low. Climate researchers are fearful the government will suppress a report detailing the impacts of climate change in the U.S. (The New York Times shared a copy on Monday night before its official release.) That follows a long line of anti-climate change moves, including a new report that the U.S. Department of Agriculture should strike phrases like "climate change" from its vocabulary.
Opposition to Trump remains active. The city of Chicago is suing the Trump administration over a policy to withhold federal crime prevention grants from sanctuary cities. The Democratic Socialists, a growing political movement, told Mic's Jack Smith how they're organizing for change. And California Secretary of State Alex Padilla wrote in an op-ed for Mic that 52 years after the Voting Rights Act passed, the landmark legislation is "under assault."
Something to watch: Trump announced a "major briefing" on the opioid crisis on Tuesday at 3 p.m. Eastern. The purpose of the briefing is unclear, but his task force has asked him to declare a federal state of emergency to combat the epidemic.
Also on health care: Health insurance officials are looking for a plan to prevent the collapse of insurance markets if Trump pulls the plug on subsidies. Those payments make it possible for health insurers to cover poor and sick Americans. A new Axios video explains why cutting those subsidies is so dangerous.
Elsewhere: Trump has still not condemned the bombing of a Minnesota mosque. Sen. Bernie Sanders (I-Vt.) may support primaries against Democrats who don't support "Medicare-for-all." And conflicts of interest run amok in Trump's administration.