A simple white T-shirt with a powerful self-love message is taking the internet by storm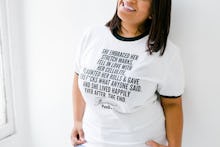 Since 2011, Nicole Grier has promoted a self-love lifestyle on her online retail website Feminine Funk, with a focus on curvier women and a love of T-shirts bearing encouraging yet super straight-forward slogans like "Don't let society make you insecure."
So it only really makes sense that what's thrusting Feminine Funk into the spotlight now is a T-shirt Grier thought up after rude comments on a bigger girl's Instagram photo pissed her off.
"Quite honestly it came to be after reading some hurtful comments written under a popular plus-size blogger's Instagram post, written by a troll of course," Grier said in an interview. "I went into deep thought about how harsh people can be and I started to think of how beautiful of a world we would live in if we all decided to embrace the body we were in no matter what it looked like. 'She loved herself' [the T-shirt] was born soon at 1 a.m."
The end product of that feeling is a T-shirt available up to a size 4XL that reads: "She embraced her stretch marks, fell in love with her cellulite, flaunted her rolls and gave zero f*cks what anyone said. And she lived happily ever after. The end."
The Grimm brothers can go ahead and chew on that.
"When I started Feminine Funk there was a lack of t-shirts that had messages of body positivity on them," Grier noted. "As a plus-size woman, I wanted to create messages of self-love and empowerment for the women of the world who took pride in the bodies they were in."
When the T-shirt was posted on Feminine Funk's Instagram, it brought an excess of comments and likes, numbering over a thousand.
"I honestly believe that this particular quote resonates with people because it's a message of self-love and body acceptance," Grier said. "We're often told by society if you are a certain size or look a certain way that you should 'fix it.' It's rare that we hear that we're beautiful as we are. I think that people want to hear that they are beautiful and worthy no matter what."
By being ahead of the body-positivity boom, Grier has been able to create an empire that earnestly centers around wanting to elevate the voices and beauty of women who don't feel represented or all that respected by the mainstream fashion and beauty industries. In the end, her goal is to make sure those women feel seen.
"It is important to realize that we aren't all the same and that is OK," Grier said. "It is also OK to create slogans that celebrate parts of the body that often times aren't celebrated and that is always a mission of mine. Our number one goal is to celebrate how awesome it is to be you through bold and powerful statements, one T-shirt at a time."