Twitter suspends account retweeted by Trump, once again raising concerns about his social media use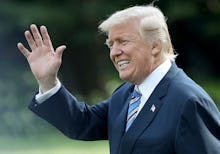 The social media habits of President Donald Trump have come under scrutiny once again after Twitter on Sunday suspended an account he'd retweeted the day before.
The account — @protrump45 — featured what turned out to be a stock photo of a young woman who described herself as Nicole Mincey, an "Entrepreneur Black Conservative" who operated a website peddling knock-off Trump paraphernalia. Though some described the account as a Twitter bot, the Daily Beast reported Tuesday that there really was a Nicole Mincy — no "e" — who'd blogged for protrump45.com, and claimed that her identity had been stolen by the people who run the website.
The bizarre story, which began with "Nicole" thanking the president for "working hard for the American people," underlines the perils of Trump's unceasing, impulsive Twitter use — and recalls once again his troubling history of engaging online with suspect social media accounts.
Donald Trump's troublesome retweets
Trump is known not only for his aggressive tweeting, in which he launches attacks on everyone from enemies like the "fake news" media to allies like Attorney General Jeff Sessions, but also for his propensity to retweet suspect users and content.
In January 2016, Trump made headlines when he retweeted an anti-Jeb Bush tweet posted by a user named @WhiteGenocideTM — an account, now suspended, that posted daily white supremacist messages.
Then, in July 2016, he famously tweeted an image describing opponent Hillary Clinton as the "most corrupt candidate ever" — an image Mic found originated from white supremacists.
A year later, months after he assumed the highest office in the country, Trump took aim at one of his favorite targets — CNN — with a meme of him body-slamming a person with the news network's logo as a head. If the content of the tweet wasn't bizarre enough, it was soon found to have originated from a racist Reddit user going by the name HanAssholeSolo.
Those posts might have been the most well-known examples of Trump's errant resharing — at least until "Nicole Mincey" came around — but they were far from the only ones. Trump has frequently tweeted links to articles from dubious sources like Gateway Pundit and Drudge Report, according to Trump Twitter Archive, a comprehensive online database of his Twitter activity, and has on numerous occasions tweeted compliments he's received from random Twitter users.
"Trump still routinely hits the retweet button if a Twitter user echoes his criticism of his adversaries or showers him with praise — regardless of who that user is or what his or her motives may be," the Washington Post reported Monday.
For Brendan Brown, who launched Trump Twitter Archive in September 2016, the retweets are part of a pattern of reactionary tweets Trump has posted over several years using the platform.
"There's definitely a pattern of behavior that goes back way before he was involved in politics and it hasn't changed at all," Brown said in a phone interview. "I would assume that normal politicians would vet what they want to retweet."
While the @protrump45 account — and other fake accounts that apparently existed to retweet posts from the original — has been suspended, the protrump45.com website remains online. The phone number listed on the site, however, does not appear to be in operation.
The site's most recent blog post tackled the controversy over Trump's anti-CNN gif. Another recent post invited readers to "learn about Nicole Mincey," an "ex democrat who switched to republicanism due to the failures of the obama administration [sic]."
"Nicole is a heartwarming reminder of how big the minority Republican movement really is," the post read. "This black trump supporter goes above and beyond to reveal the hypocrisy of liberals and help trump supporters no matter where in america they are show their Trump pride [sic]."
Her photograph was apparently stolen from PlaceIt, a stock photo service, according to the Daily Beast. PlaceIt CEO Navid Safabakhsh told Mic in an email Tuesday that while the company's immediate focus has been to report the fraudulent use of its stock photos to Twitter, it is considering reporting the stolen images to federal authorities.
"We plan on reporting any cases where our photos are being used for impersonation," Safabakhsh wrote.
While the sketchy account does not appear to have been a bot, the retweet shows how a bot spewing propaganda could have its platform elevated by Trump.
"The president doesn't know whether it's a Russian bot or not," Clint Watt, a former FBI agent and fellow at the Foreign Policy Research Institute, told the Post. "He's just pushing a narrative, whether it's true or false. This provides a window not just for Russia but for any adversary to both influence the president or discredit him."