GeekGirlCon 2017 Controversy: Tensions boil over and leads key organization staff members to quit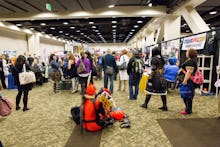 GeekGirlCon — a convention that takes place in late September each year and encourages female geeks and their supporters to "build a community, share facts and fandom and learn how they can help promote the role of women and other underrepresented groups in geek culture" — was recently embroiled in a bitter controversy on Aug. 6.
Departures are not in and of themselves unusual, but a convention operations team up and quitting two months before the fall event raised some eyebrows. According to GeekWire, the resignations were as follows: director of convention operations Seven DeBord, exhibitor services manager Amy Gembala, registration & admissions manager Rose Minier and reaction team manager Josh Michaels. The fifth resignation hasn't been made public.
The whirlwind resignation was followed by an inflammatory email sent to staff and attendees alike, the contents of which are nebulous at best and potentially libelous at worst.
If you missed the entire thing or you're still confused about what happened, here's what you need to know about the GeekGirlCon 2017 controversy.
GeekGirlCon 2017 staff controversy: The email that started the fire
The email in question details the reasons why the convention ops team leadership decided to quit two months before this year's event was slated to begin. Here's the full email, which was also shared on Twitter:
There are some serious allegations in this email. Putting aside the claims of racism, bullying and gender discrimination — all of which are alarming, especially given the nature of GeekGirlCon as an inclusive space for geeks of all kinds, regardless of gender identity, sexuality or race — the biggest issue is the claim of misuse of charitable funds.
If true, misuse of charitable funds is fraud. If false, the above email could be cause to bring a libel charge against whomever wrote it. The most troubling nature of the email isn't how it was said — it was whom it was sent to. This email was sent to GeekGirlCon's entire mailing list.
GeekGirlCon 2017 staff controversy: Claims of racism and bullying feel particularly specious
GeekGirlCon's ethos is predicated on inclusivity and diversity. Here it is, according to their "about" page:
GeekGirlCon strives to be representative of our greater, diverse community, and we embrace all types of people, PERIOD. There is no way to list all the subsets of folks that now or in the future will make up the body of GeekGirlCon. ALL ages, gender identities, sexual orientations, sizes, abilities, ethnicities, nationalities, races, creeds, religions, familial statuses, physical and mental abilities, alien species, earth species, education levels, science specializations, operating system preference, fandoms, etc., are welcome. Anyone supporting women in geeky pursuits is welcome.
Their blog and Twitter feeds are chock-full of content that promotes diversity, inclusivity and feminism. So, it came as an enormous surprise that GeekGirlCon was about to be dragged for going entirely against that. Leslie Mac, co-founder of Safety Pin Box, a monthly subscription box for "white people striving to be allies in the fight for Black Liberation," revealed via Twitter the frustration of interacting with the same people who walked out.
These tweets are enough to give massive side-eye to the convention operations team, especially considering that allyship is an important tenet of both the organization and the convention itself. It's a small comfort that Michele Domingo, the organization's executive director and a woman of color, reached out to apologize for the operations team's approach to content planning.
"It would be remiss to not mention that the accusations were made by five white people, three of whom identify as male," the board said as part of a statement via Facebook.
It's important to note that the kink-shaming and gender discrimination allegations noted in the email marked an event that did occur, but perhaps not in the way it was insinuated. According to DeBord's conversation with GeekWire and the above email, Domingo shared a letter detailing an intimate sexual encounter that a male staff member had with a former volunteer. DeBord argued that this was brought to the board to oust the staff member on the basis of his gender.
Sharon Feliciano, a GeekGirlCon board member, addressed this in a Facebook video: "The executive director brought it to the board because she had been recently made aware of its existence and was making sure that current board members were aware of a potentially sensitive situation."
According to a statement sent to GeekWire, GeekGirlCon didn't remove the staff member in question, but created a co-manager role instead. Their statement reads,
The Executive Director did not remove the volunteer, but instead created a "co-manager" position that would complement the volunteer's skill set. He was never fired or dismissed.
It's hard to say what Domingo's motivations were without broader context, but it's safe to posit (based on the above statements) that the potential issues around fraternization gave the executive director pause.
GeekGirlCon 2017 staff controversy: Misuse of charitable funds is a big grey area
Misuse of charitable funds can happen when solicited donations are used for anything other than funding the charity's particular cause. In this case, GeekGirlCon's cause is the event itself. If solicited donation money is moved around to any other part of the organization's budget, it's misuse and potentially fraud, depending on the severity of the misuse.
Domingo, GeekGirlCon's executive director, is the organization's first full-time salaried employee. Until Domingo joined GeekGirlCon on Feb. 1, 2017, the organization was entirely comprised of volunteers. These volunteers are the backbone of the convention and spend hundreds of hours working on bringing the annual event to life.
It remains unclear how funds may or may not have been misused. If funds were used for anything other than the purpose for which they were donated, it could compromise the organization's 501(c)(3) status. If the board has already investigated the claims of misuse, then the allegation is libelous.
Mic has reached out to GeekGirlCon for comment.
GeekGirlCon stands behind Domingo unequivocally, according their official statement,
Our organization is led by Michele Carrico Domingo, a woman of color who has made it her mission to demonstrate transparency, integrity and inclusivity. Her background working with both non-profits and corporations has made her exceptionally qualified to lead GeekGirlCon. The entirety of the GeekGirlCon staff supports Michele, and we are honored to be led by her.
It's hard to believe that a woman whose background is in non-profits would be misusing charitable funds, especially within the first six months of her appointment as executive director.
Regardless of the operations team leadership's departure, GeekGirlCon will still take place as planned during Sept. 30 to Oct. 1 in Seattle, Washington.
More gaming news and updates
Check out the latest from Mic, like this deep dive into the cultural origins of Gamergate. Also, be sure to read this essay about what it's like to cosplay while black, a roundup of family-friendly games to play with your kids and our interview with Adi Shankar, producer of the animated Castlevania Netflix series.