Madame Gandhi: The free-bleeding feminist musician with a Harvard MBA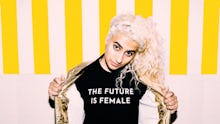 NEW YORK — Kiran Gandhi's bleached-blonde curly hair with a grown out side-shave, which was in a top knot minutes before she rocked the Summer Stage in Central Park, is billowing out behind her now as she walks toward me. Gandhi is rocking a white, pink and neon yellow '80s-style oversize sports suit and round glasses that don't quite cover the power of her dark eyebrows. She seems grounded even as she's just finished a set to screaming fans and Indian grandmothers gyrating their hips.
She's sure of herself — every step and every word have a purpose.
Gandhi's comfort in her body is perhaps not too surprising, since the world first heard about her not though her music, but through a viral blog post she wrote explaining why she free-bled while running the London Marathon on her period in 2015. The attention surrounding her decision not only helped spark conversation surrounding period stigma, but it gave Gandhi, who is the former drummer for both M.I.A. and Thievery Corporation, the confidence to break out as an independent artist, and to do so in her own style.
Gandhi has not shied away from her in-your-face feminism. In fact, her entire message as an artist is built upon it. Her debut E.P. as Madame Gandhi, Voices, came out in October 2016, at a time when the future of the United States had a hope of looking different. Her is an anthem to Hillary Clinton and the breakout track of the album is titled The Future is Female. Yellow Sea's infrastructure is completely supported by different loops of her voice — a woman's voice, breaking free from the background (she was a drummer, after all), and coming forward as its own.
"I named my record Voices, not only to elevate and celebrate the female voice, but to also show a three-dimensional construction of a woman using her voice in many different ways," Gandhi tells me. "I'm rapping, I'm singing, I'm crying, I'm [looping my voice], I'm beat-boxing, I'm whispering. I wanted all those elements to be on the record to say that we are three-dimensional beings, we are women and we have just as much to say as the men do."
A champion of sisterhood and no stranger to direct eye contact, Gandhi practices what she preaches. A few moments after I meet the artist, a young Desi woman at the show, with a crown and a pink sash that reads "maid of honor" draped across her dress, frantically comes up to us, asking for Gandhi's help to let the bride go up on stage to sing her favorite song. Gandhi thinks earnestly if there's something she can do, but ultimately can't, due to the event's strict security enforcement. She apologizes, and we continue walking away from the stage looking for a quiet corner to record.
We find a spot, and just as we're finally beginning our interview, camera rolling, a man waves behind her smiling tour manager, Noor Khan, who is filming. Gandhi asks me if I know this person, and when I shake my head no, she asks the stranger, "Hey, what's up?"
He is giddy. "I just want to say, you are wicked," he tells her. "I was saying to my friends — 10, 15 years ago you would never see a woman like you on stage, kickin' it." Gandhi bows her head with a smile and gives him a hug. "So keep doing it," the stranger says. "Because for the young girls out there, you are are a role model."
That she is. As a young girl, she was told she shouldn't play the drums, so she played harder and better. As a Harvard M.B.A. grad, she wanted to learn as much as she could about the music industry to change it, since the percentage of female performers at music festivals and women in leadership roles in the music industry is dismally low. When asked how it feels to take up space as a brown woman in the music industry, she finishes for me: "Taking up space, yes. Amen."
"I used to be like, how can women break in to be more CEOs, more drummers, more artists, more festival organizers, and I'm not even on that tip anymore. To me right now, [the phrase] 'the future is female' is representing women being lightyears ahead in building our own alternatives in leadership, of safe spaces, of joyful spaces."
Gandhi's feminism is an inclusive one, yet as a cisgender woman singing that the future is female, she's gotten some backlash, particularly from those who claim that her message is trans-exclusive.
"The phrase [the future is female] was started in the '70s, and it does have a transmisogynist root, and I 100% acknowledge that. But I also believe in new voices giving new meaning to old slogans," she says. "For me, 'the future is female' is about celebrating femininity in all of us, and moreover, it's the trans community who has led the way time and time again."
Women musicians often want to be known for their talents, not their gender. Yet for Gandhi, her connection to her femininity comes first.
"Of course, me being of a South Asian background, a New Yorker, being a musician, is all somewhere there on the ranking system, but many women who are musicians, their femaleness may rank lower on that scale, and they get frustrated when people ask them 'what's it like to be a female musician?'" she says. "For me, I own that identity because it very much shapes how I play the drums, how I dress, how I think, and how I speak, but for many artists it doesn't… I very much own and love my female identity."
My femaleness is number one in my identity... I very much own and love my female identity.
She places the onus on reporters and journalists to make sure to give the "space, honor, and respect" for their subject to make their choice about defining for themselves which identity comes first.
With multihyphenate accolades and identities that all revert back to her feminism, Gandhi has advice for young girls, and it's to spend some time alone. "People think they're entitled to our time and energy, I'm on my tip of like, please get away from me," she says as she pushes her long fingers away from her chest.
"I'm going to get so good at the drums, I'm going to develop and nurture my skill sets because I believe in myself, and then I'm going to get on the stage, and I'm going to perform and change your stereotype and your perception of what we are capable of," she says. "So spend some time alone, and pursue the thing that you love and that you want to get better at."
"The future is female."