The latest round of UN sanctions against North Korea explained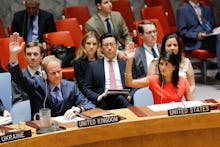 On Tuesday, North Korean officials warned that they were prepared to retaliate against the United States in response to the United Nations' latest sanctions against the country.
Members of the United Nations Security Council passed the sanctions — which aim to slash North Korea's "annual export revenue of $3 billion by more than a third," according to CNN — on Saturday, with 15 votes in favor. Among the ayes was U.S. Ambassador to the U.N. Nikki Haley, who said the new measures prove the U.S. is ready to do "whatever it takes" to defend itself and its allies against North Korea's nuclear threats.
North Korea has since promised to make the U.S. "pay dearly" for the sanctions, accusing its adversary of "trying to drive the situation of the Korean peninsula to the brink of nuclear war." What's more, North Korean officials have suggested the sanctions won't achieve what U.N. officials set out to do in the first place: stop the country from developing its nuclear program.
"We will, under no circumstances, put the nukes and ballistic rockets on the negotiating table," North Korean Foreign Minister Ri Yong Ho said at Monday's ASEAN regional forum.
Indeed, North Korea has been diligent about testing its nuclear weapons, especially its intercontinental ballistic missiles. Last month the country tested two ICBMs, one of which Kim Jong Un bragged could reach the "whole U.S. mainland." These tests, and the frequency of them, have escalated tensions between the U.S. and North Korea, making some kind of decisive action necessary.
How the sanctions will work
The U.N.'s measures are designed to put economic pressure on North Korea by targeting the country's primary exports, which include coal, iron, lead and seafood. They also take aim at North Korea's banks and "joint ventures with foreign companies," according to CNN.
President Donald Trump piggybacked on these sanctions Wednesday, signing off on legislation doling out censures for North Korea, Russia and Iran. The U.S.'s sanctions for North Korea target individuals and organizations that exchange goods, maintain financial accounts or "engage in online commercial activities" with the country. Accordingly, Secretary of State Rex Tillerson must deliver a decision to Congress stating whether North Korea should be considered a "state sponsor of terrorism."
Tillerson had been holding out hope for talks with North Korea; however, those prospective talks were also predicated on the condition that the country would abandon its nuclear program.
"We felt the appropriate thing to do first was to seek peaceful pressure on the regime of North Korea, to have them develop a willingness to sit and talk with us and others — but with an understanding that a condition of those talks is that there is no future where North Korea holds nuclear weapons or the ability to deliver those nuclear weapons to anyone in the region, much less to the homeland," Tillerson said during an Aug. 1 press briefing.
How will North Korea respond?
Recent sanctions have all but eliminated the prospect of any diplomacy between North Korea and the United States.
When the U.N. imposed sanctions on North Korea in March 2016, the country responded by firing six short-range missiles into the sea.
This time could be worse: Tuesday afternoon, the Washington Post reported that North Korea has "successfully produced a miniaturized nuclear warhead that can fit inside its missiles" — a crucial step in turning the country into a "full-fledged nuclear power."
The U.S. seems to be safeguarding itself against all possibilities. Early Wednesday morning, the U.S. conducted its own ICBM test in a move to prove the country's nuclear program was "safe, secure, effective and ready to be able to deter, detect and defend against attacks on the United States and its allies." Days before, the U.S. and its Asian allies made a show of flying bombers and fighter jets over the Korean peninsula in a 10-hour mission.
It remains unclear if the U.S. will ever have to deploy its own nuclear force against North Korea. In light of the new sanctions — and North Korea's subsequent threats — some say it's likely.
"Some like to depict Kim as being crazy — a madman — and that makes the public believe that the guy is undeterrable," Siegfried Hecker, the last known U.S. official to personally inspect North Korea's nuclear facilities, told the Washington Post. "He's not crazy and he's not suicidal. And he's not even unpredictable."
"The real threat is we're going to stumble into a nuclear war on the Korean Peninsula."
In a statement Tuesday, Trump said, "North Korea best not make any more threats to the United States. They will be met with fire and fury like the world has never seen," the statement read in part. "He has been very threatening beyond a normal state, and as I said they will be met with fire, fury and, frankly, power, the likes of which this world has never seen before. Thank you."
Aug. 8, 2017 3:38 p.m.: This story has been updated.