To celebrate the total solar eclipse, this 73-year-old grandma is planning an epic family reunion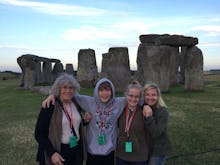 Claudia Tropila, an attorney based in Fountain Valley, California, has always been obsessed with astronomy. She inherited the passion for space from her father, Cooper Lindley, who oversaw the design of all the ground support equipment for the Apollo Program. After he helped his daughter secure a summer internship predating the first moon landing, Tropila was totally hooked.
Now 73, Tropila has witnessed several partial eclipses, both solar and lunar, but a total eclipse of the sun, like the one occurring next week, has always been on her bucket list. "Unless you are an astronomer or an astrophysicist and are able to travel the world in order to see such an eclipse, they're pretty rare over the United States," Tropila said. She's right. The last total solar eclipse in the U.S. occurred in 1918. "I thought it would be a good way to connect with everyone — sort of a mini-reunion for family and friends."
Tropila passed her adoration of all things celestial to her kids, Diane Parazin and John Tropila, who then passed it on to their children. So it wasn't hard to get her family on board to plan the eclipse trip of a lifetime back in 2015
Soon after she learned about the Great American Eclipse, Tropila booked seven hotel rooms in Casper, Wyoming, which is along the path of totality. Though it was tricky to get the hotel to take reservations two years in advance, Tropila found rooms at the MainStay Suites in Casper and eventually booked flights earlier this year. Casper is expecting around 50,000 visitors for the eclipse and as Tropila lamented, you "can't even get dinner reservations far in advance." 
Two of Tropila's grandkids, Bryce Parazin and Sydney Tropila, have their own telescopes and Tropila is eager to continue fueling their love of astronomy. "[I'm] really delighted to know their interest will continue long after I'm gone," Tropila said. "One of the big thrills in my life was seeing the Andromeda nebula through one of those telescopes aimed and pointed by both Sydney and Bryce at our summer place a couple of years ago."  
A group of 11 (originally 12 — Tropila said that one of her granddaughters, Samantha, won't be able to make the trip because she's at a drama camp for the summer) will congregate in Casper in the days leading up to the eclipse. Three generations of Tropilas, along with two of Tropila's friends and their two grandchildren, will fly and drive to Wyoming from the Boston area, southern California, northern California and Florida.
As part of the festivities, Tropila and her daughter Diane have created "swag bags" with customized T-shirts, buttons, sunscreen, specially branded cups (Diane expects to fill these with Champagne), snacks, custom packaged candies and, of course, eclipse glasses. 
Before the main event, Tropila plans to take advantage of the eclipse festivities in Casper, which include a street fair and lectures, but she's also looking forward to getting together with her family, talking, reading and sightseeing.
Tropila is planning for hot weather on eclipse day and will prepare an eclipse cooler with ice and snacks to share. "Because you really just can't actually do nothing but stare at the sun for three hours, we're planning on having a couple of board games to keep amused," Tropila said. In addition to the eclipse glasses she bought for the group, she invested in a pair of binoculars that are safe for watching the sun. 
"I am really excited to see what happens when totality occurs — you hear about changes in animals and actually seeing the nighttime stars come out when the sun is fully covered which I'd like to experience," Tropila said. "The temperature is expected to drop, which will probably be nice, and the corona [the glowing solar crown around the moon] will be visible. But it only lasts for around two and a half minutes, so [we] will have to be very alert to notice everything. I kind of expect it to be awe-inspiring."