'Pokémon Go' Zapdos Raids: Update bugs make catching the legendary bird harder than it should be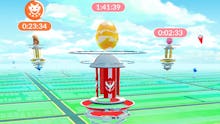 Thanks to Pokémon Go legendary raids, group battles in the game are more exciting than ever. Legendary birds like Articuno, Zapdos and Moltres have many rushing to spend their raid pass. The only thing standing in the way of you and victory are, you guessed it, bugs and errors — we can't say we're surprised.
This isn't the first time Pokémon Go has been plagued with bugs, and it won't be the last. So what are the latest PoGo mess-ups?
Pokémon Go' Zapdos raid bugs: Your last Premier Ball will never catch a raid Pokémon
Those who played Pokémon Go back in the day know the game launched with plenty of bugs. You'll be happy to know that problems persist, with the latest updates bringing brand new issues to the year-old mobile app.
Niantic now gives players an extra Premier Ball when trying to catch raid Pokémon. Why, you ask? It's simple: Pokémon Go has a bug where the last ball you throw never works. The company even admitted it in an official list of known problems.
Until they squash this bug, the company will need to offer one more Premier Ball to catch those legendary Pokémon.
Pokémon Go Zapdos raid bugs: If you don't have any PokéBalls, you basically don't have Premier Balls either
So you just beat Zapdos and you're gearing up to catch it. You don't have any PokéBalls, Great Balls or Ultra Balls, but that's alright. The raid you just finished awards you special Premier Balls to use. Let me just put my finger on the ball and ...
Oh?
Redditor Rexkt notes that the "out of balls" overlay covers up the Premier Balls you were awarded. Meaning, if you plan on properly throwing a ball at that rare raid Pokémon, you're going to have a bad time.
Basically, if you have no PokéBalls, you aren't able to use the Premier Balls you earn. In the picture above, some of the bottom portion of the Premier Ball isn't covered by the overlay. This is what you can use to toss the ball at raid Pokémon. If you're precise enough, that is.
Pokémon Go Zapdos raid bugs: Dodging during raid battles is all messed up
You may want to think twice about dodging. Reddit user myckol notes that successfully dodging a charged attack will result in damage dealt to your Pokémon anyway. After which your Pokémon will straight up disappear.
If you ask Niantic, they'll say dodging will cause the app to become unresponsive. We can only imagine the two combined would lead to massive Poké-tragedy.
Check out more Pokémon Go news and coverage
Raids are here, and so are Articuno, Lugia and now Moltres! See how to locate the best ones and why they may be the key to legendary Pokémon. Find out how to determine how long it will take you to reach level 40, and see what we think of the Gen 2 Pokémon added to the game. Here are the kinds of Pokémon you get from 10-kilometer eggs, and here's where you can check out what you missed during the Water Festival and Solstice events.