'Overwatch' Summer Games Skins: Every new skin, highlight intro and victory pose in the new update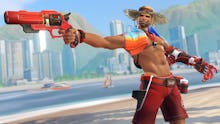 The Overwatch Summer Games are back, and folks, the skins are very good.
Since there aren't any Olympic games this year to base the Summer Games event on, it seems Blizzard went for more of a beachy theme, giving several characters — McCree, Soldier: 76, Widowmaker and Sombra — bathing suit-style attire. Mercy, however, is dressed like Greek goddess of victory, Nike.
Every new Overwatch Summer Games skin, highlight intro and emote is below. Enjoy.
Overwatch Summer Games skins
All of the Summer Games skins from 2016 are available once more, like Zarya's "Champion" skin and Genji's "Nihon" skin.
Overwatch Summer Games highlight intros
Overwatch Summer Games emotes
Every other Summer Games cosmetic item
For a nice, complete roundup of everything, check out the video below from Force Gaming, which goes through every new Summer Games cosmetic.
More Overwatch news and updates
For more on Overwatch, check out the rest of what Mic has to offer. Here is an intro to the cute, new "Wholesome Overwatch" subreddit, a look at some gorgeous Overwatch-themed PS4 and Xbox One controllers, a cool Easter Egg in the new Horizon Lunar Colony map and a criticism of Blizzard's failures in its design of Symmetra.