'NBA 2K18': Offline player creation tools need to mirror MyPlayer options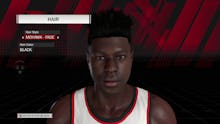 The newest NBA 2K18 trailer revealed some of the new creation options for the MyPlayer mode, but it doesn't mention offline created players.
I reached out to 2K to clarify whether offline CAPs would have the same options, but haven't yet been given confirmation on this issue.
Roster creators will be watching this situation closely. The NBA 2K series has been long overdue for an enhanced player-creation tool. While there are some advanced creators within the community capable of accurately recreating players, the tool in NBA 2K17 was still very limited.
The MyPlayer creation screens move quickly in the trailer, but it appears as though you will have a much larger degree of control over facial features, body types and hairstyles.
The latter was perhaps the most requested feature of all.
The offline player-creation community is a smaller group than the hardcore MyPlayer crowd, but it's a contingent of fans who are dedicated to creating content that enhance the experience of other gamers within the overall 2K community.
It's only right that 2K give the community creators the same tools to enjoy the game that are being given to those only interested in creating their MyPlayers.
We'll get more information on this subject as it becomes available. Expect to hear an answer in the coming weeks as we move closer to the Sept. 19 release date.
More sports gaming news and updates
Love sports games? Check out more content from Mic, including news on NBA 2K18, Madden 18, WWE 2K18, MLB The Show 17 and the Nintendo Switch's sports games.