Sick of her 9-to-5, this woman moved across the world to become a butcher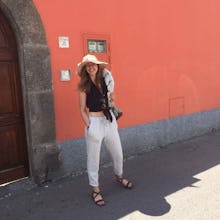 It's Thursday afternoon and Rebecca Brooks is elbow-deep in a dead pig. Well, it's half a pig that's been sliced, from snout to tail. Its empty eye socket — there's no eyeball or eyelid because those were removed at the slaughterhouse — makes the animal look like positively haunted.
Brooks works methodically, her plastic frames slide down her nose as she focuses, using a knife to sever the pig's feet (aka trotters), after which she tackles other parts of the animal. She slices carefully along invisible seams, effortlessly piercing through the red flesh and lopping off different parts of the carcass. Hip-hop pipes through a small portable speaker set upon the refrigerated display case behind them as Brooks and Greg Brockman, another full-time butcher, work quickly to dismember the half of pig.
Brooks is the only full-time female butcher at Forager's Market, a nose to tail butcher shop in Brooklyn, New York. In general, lady butchers are a minority in the butcher industry — a scant 24.6% of butchers are women, according to a 2010 analysis by the National Women's Law Center, a nonprofit that advocates for women's rights. Butchers and meat cutters are considered "nontraditional occupations" for women, alongside other male-dominated jobs like police, lawyers, engineers and firefighter, according to the center.
24.6% of butchers are women, according to a 2010 analysis by the National Women's Law Center
But when it comes to butchering, gender is irrelevant, save for the most physically demanding parts of the job. "I only am kind of conscious that I'm a woman when we need to bring pigs in," Brooks said. "I can't carry a side of pork by myself, and that's the gold standard. Brockman cheerfully fired back, "That's just strength, it's not a skill, Rebecca."
As the pair works to separate the loin, it's clear that skill and technique are key to a butcher's work. Larger tools are used to saw and hack through the pig, while smaller knives help the pair remove excess fat and tissue, cleaning up the cuts so they're presentable for consumers.
F-bombs fly through the air and employees lob playful insults at one another. "I don't feel like I stand out among my co-workers … I often feel like I'm one of the crasser people in a group," Brooks said. "My boss recently described me as 'the opposite of a debutante.'"
A few minutes prior, Brooks and Brockman hoisted the bag containing the 110 pounds of pig side from the delivery van onto their shoulders. (The pig's heart tumbled out of the plastic bag and flopped onto the concrete, almost landing on my shoes as I scurried to keep up with Brooks and Brockman striding toward the building elevator. I shrieked in surprise; Brooks and Brockman hardly flinched.) Upon returning to the delivery van to retrieve the second pig side, Brooks picked up the purple-hued, squishy organ as casually as if it were an apple that happened to roll out of a book bag.
Brooks wasn't born with a knife in hand or a desire to pursue butchering. After majoring in English at Tulane University in New Orleans, she took a job in media sales. Her days filled to the brim with meetings, emails and other digital minutia, the now 26-year-old grew disillusioned with corporate life even though "crippling gratefulness" for the job and loyalty to the company kept her desk-bound for two years.
A Gallup poll from 2016 found that most working millennials feel uneasy at work. Roughly 55% of millennials report feeling unengaged in their work — and of all generations, they're the most likely to switch jobs. It's unclear how many millennials go from desk job to butcher block, though.
"I didn't know what a different reality looked like for me," Brooks said. "I was very unhappy towards the end. I didn't feel like I had a whole lot of hope." Instead of scouring job boards, she decided to entirely upend her career and lifestyle.
Meat — grilled, baked, cured, roasted and all its other iterations — called to Brooks. Growing up in Wisconsin, she would savor grilled steaks with her dad, a passionate home cook who loved organizing menus and grilling. "Every meal, there's going to be a meat feature," Brooks said of dining with her father. "In college, when I was cooking more for myself for the first time, I began to wonder what it means to buy a ribeye, where my beef comes from ..."
Itching to leave her media job, she challenged herself to secure a meat-related gig by June 2016. Through a Google search, she found and applied for a program in Italy and was later accepted for a butcher internship in the fall.
"But it was awful waiting for that email," she said of the acceptance letter to Spannocchia, a lodge/working farm that hosts a handful of farm interns for seasonal sessions. "My heart was throbbing. I excused myself from work and I cried [of relief] in my car."
Thus began her foray into butchering and curing meats. For three months, she worked as a butcher's apprentice whose responsibilities included everything from herding pigs into a slaughterhouse at 5 a.m. and butchering the animals ("cleaning out a pig stomach smells like your worst hangover") to tying the proper knots to cure prosciutto and other salumi.
"I'm a blondish, American female who can't speak the language — I felt so desperately out of place and our head butcher was a notorious curmudgeon," she said, explaining that most of the employees at the government-certified slaughterhouse were old, chain-smoking Italian men. For Brooks, tying the knots for cured meats proved to be the hardest skill to master — the complicated loops haunted her dreams.
"I'm a blondish, American female who can't speak the language — I felt so desperately out of place."
Like many hoping for a fresh start and new job opportunities, she set her sights on relocating to New York City instead of returning to New Orleans. The night before she moved to New York, she applied to the Forager's job she saw on Craigslist — and the company offered her the job within three days. "It was super lucky," Brooks said.
Since she quit her advertising job and began pursuing butchering, her increase in happiness, she said, has been enormous.
"Whenever I encounter someone who says they hate what they do, I'm like, 'Nuke it! Just start over!'" she said. "I'm so much happier than I used to be." She points to a few downsides — like the fact that many Tinder matches make groan-worthy meat puns in their messages to her — but not many others.
And then there are the fringe benefits like not having to grocery shop and getting to enjoy lots of meat snacks. She's also feeling physically stronger, especially her right forearm, thumb and forefinger. "The bone saw really gets you in shape," she said. Sharp knives mean greater risk for injury compared to your average desk job, though. Brooks once cut herself when chopping rosemary while using a dull chef's knife. "I cleaned myself up, came back and then fainted. It was damn embarrassing," she said.
Next on her agenda? Adding to her knife collection, visiting area farms and experimenting with charcoal and smoke in meat preparation are a few short-term goals. "Most of all, though, I want to be able to lift and carry sides of pork by my damn self," Brooks said.
Next fall, she intends to revisit the agritourism farm in Tuscany. While she worked as an apprentice, she prepared legs of prosciutto that take years to cure, so the legs she worked on will finally be ready for consumption.
Making "long-term goals at this point seems futile," she said. "Five years ago, I was fired from a summertime babysitting job. A year ago, I lived with my folks. Now I'm cranking out 45 pounds of sausage every week and eating more meat than I could've ever imagined."
For now, she's taking things one slice at a time.