Meet Towkio, a onetime hustler who's keeping Chicago hip-hop weird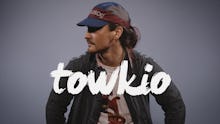 No one attribute or story defines Chicago. To many residents, it's a sanctuary; to sports fans, it's a recently redeemed powerhouse; to the current presidential administration, it's a "war zone." To fans of hip-hop, it's a nursery for some of the greatest talents who've ever picked up a mic — and Towkio is one of its latest students.
The 24-year-old rapper is part of Chicago's SaveMoney crew, which has introduced the world to some of hip-hop's most beloved oddballs, among them the independent and enthusiastic Chance the Rapper. SaveMoney also incubated the talents of the proudly confrontational Vic Mensa, the optimistic Nico Segal (formerly Donnie Trumpet) and the street-wise Joey Purp. Towkio's music shares some elements with his peers — Chance's uplifting gospel sensibilities, Mensa's spiritually driven confessionals — but it features a much deeper fascination with the skittering electronics of juke, bordering at times on the IDM of Aphex Twin and Sophie's high-octane vaporwave.
To hear Towkio tell it, the diversity in his sound reflects the diversity of his city, and of his own person, growing up biracial with Mexican and Japanese parents.
"The city is a product of gangsters like Capone, so it breeds a certain type of hustler," Towkio said during a recent visit to Mic's New York offices. "I think it's definitely a melting pot. That's what I am and that's what I am the representation of. When I go and make music, that reflects. It's a energy that hasn't been; it's just never existed before."
Led by the single "Drift," Towkio's upcoming debut album WWW will demonstrate just how expansive he is as an artist. Get familiar with him and his story by watching the clip below.
Mic has ongoing music coverage. Follow our main music hub here.