These eco-friendly hotels don't look especially green — and that's the point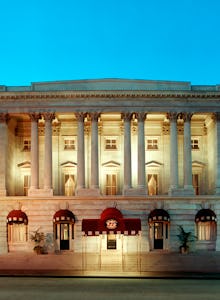 This is part two of a three-part series that looks at green hotels — what that means, how it works and what consumers can do.
A stylish young woman in an off-the-shoulder sundress hunches over a laptop, one foot hoisted atop a rough-hewn coffee table and the other resting on a fluffy shag carpet. A couple poses for selfies next to a massive wall of ferns. A 40-something guy plunks down on a squat stool made entirely of ropes and continues pitter-pattering away on his phone.
This stylish WeWork-esque setting isn't some new, hip tech incubator or posh, members-only co-working collective: It's the lobby of the six-month-old 1 Hotel Brooklyn Bridge, and everything — from the raw concrete walls to the ever-so-coolly distressed furniture — is an expression of the young hotel brand's proprietary take on sustainability.
As Mic reported in part one of this series, the term "green hotel" is vague and inexact, thanks to an entangled maze of certification frameworks and credentialing and local building restrictions and zoning laws. But despite the lack of one-size-fits-all guidelines, a few hotels have emerged with standout approaches to sustainability that have proved, or will soon prove, disruptive to the industry.
1 Hotel Brooklyn Bridge
For a brand whose mission is "the world around us is beautiful and we want to keep it that way," the location of the new 1 Hotel Brooklyn Bridge couldn't be more apt: smack in the middle of a leafy section of Brooklyn Bridge Park in New York City, and so close to the East River that new zoning laws in the wake of Hurricane Sandy forced revisions (plus costs and delays) to the original design of the building.
"Being a brand about sustainability and honoring nature, we chose to remember the power of nature and reverence to that. Both intentionally and inadvertently, [the hurricane] affected the DNA of this project," said Waad El Hadidy, design director at Starwood Capital Group, which developed 1 Hotel Brooklyn Bridge alongside Toll Brothers City Living and in partnership with Brooklyn Bridge Park. The interior design was overseen by New York-based Inc Architecture & Design.
During a tour in May, everything El Hadidy pointed to had a backstory, from the wavy rubber installation hanging over the reception desk (by Brooklyn artist Jarrod Beck), made from roofing destroyed in a tornado, to handsome tables (by Brooklyn woodworking studio Bien Hecho), made from trees that fell during Sandy on the grounds of the Brooklyn Botanic Garden. There are pine beams from the former Domino Sugar Factory here; threshing floor from cattle barns in upstate New York there.
Throughout the 194-room, wind-powered hotel — which is expecting its LEED Gold plaque in the fall, El Hadidy said — are 100 planters and lampshades (from Brooklyn-based artist Danielle Trofe) made from mushroom mycelium, an organic substance grown in molds. "It's a kind of fungus. It comes from the root structure of mushrooms, and then added to it is agricultural waste — stuff that comes from corn stalk that's been thrown out," El Hadidy said. "It sounds gross, but it's actually really cool."
A hotel built from a 54% ratio of reclaimed and regional materials will naturally have a certain look, especially when metals and concretes are deliberately left raw. ("That's just how it's poured — it's not a fake finish — so it saves on materials and energy," El Hadidy said.) But some of 1 Hotel Brooklyn Bridge's most interesting visual elements have underlying sustainability functions. For instance, the textural metal mesh on the exterior facade is designed to reduce the buildup from the sun, and hence the need for air conditioning; it also casts reflections against the building, so birds are less likely to fly into the glass. The massive exposed pipe that contributes to the lobby's industrial character is actually a rainwater collection system; rainwater is collected from the roof, stored in an underground tank and eventually funneled back into Brooklyn Bridge Park for irrigation.
"The most important overarching driver is that our values of celebrating nature are consistent, and permeates everything we do," Amanda DeSantis, the vice president of sustainability and innovation at Starwood Capital Group, wrote in an email. 1 Hotels, which was founded in 2015, is in growth mode (there are locations in Miami and Midtown Manhattan, and others planned for Hainan Island, China; Cabo San Lucas, Mexico; and Sunnyvale, California), but that doesn't mean it's going to stray from its founding principles — arguably the most in-your-face green ethos in the industry right now.
The forthcoming Cabo hotel will feature solar panels, green roofs, open-air light wells (to reduce the need to turn on the lights or air conditioning) and salvaged materials. Even the entrance is designed as a thoughtful nod to the natural landscape. "We're always thinking about the arrival sequence — how does the guest come in?" Tim Slattery of Hart Howerton, the architecture firm behind the project, said in a phone interview. "The first thing you see is this wonderful park and then as you drive up the road, the lobby is this 'anti-building' — it's just a frame that you can look through and see the Sea of Cortez. That connection to nature, both green and blue, is a key piece."
Kimpton, various locations
Sustainability has always been central to Kimpton's mission, since its 1981 founding as a cluster of personality-driven boutique hotels to its relatively newfound corporate ownership by InterContinental Hotels Group. The company estimates that a quarter of its properties falls into the adaptive reuse category. "Rather than tearing a building down and just building a new build, we were able to convert those former office buildings or banks into hotels. That's the ultimate recycling story: repurposing a building entirely," Ave Bradley, Kimpton's creative director and global senior vice president of design, said in a phone interview.
With a portfolio of more than 60 hotels (located mostly in the United States), Kimpton faces different sustainability challenges and goals than the much smaller 1 Hotels group. Whether a Kimpton opens in an existing structure or not is where certain other standards come in. To start, the design process is digital — no printing and shipping wads of architectural drawings across the country. From there, Bradley nerds out about sourcing: How is furniture manufactured? What's in glues, lacquers, stains, sealants and finishes? Are paints low in volatile organic compounds? Are hardwoods milled by suppliers that recycle resources? Are vendors treating their employees well?
Take furniture producer Cheng Meng, which is one of Kimpton's preferred suppliers. "They repurpose and reuse every single bit of material," Bradley said. "All the sawdust they create in manufacturing case goods" — things made of wood, like tables, desks and wardrobes — "goes to farmers and incense-makers." Bradley said another, Shaw Carpets, has a recycling program that diverts old carpets from the landfill. "When we do a renovation of a hotel, nothing goes into the landfill. It always gets liquidated, and somebody reuses it at another hotel or motel down the line," she said.
Whereas 1 Hotels has detailed its roster of indie artists and furniture-makers, Kimpton doesn't really publicize specifics about sourcing — not even on its corporate sustainability page. No matter, Bradley said, "Anytime we have an opportunity, we make the right choice, and that includes socially conscious and environmentally conscious decisions." She added, "You can repurpose materials these days and have it still look like it's clean and modern and refined, as opposed to knocking somebody over the head and needing to tell that story. I think it's such an inherent part of us and our company culture, but I don't think at the consumer level [that] we need to look like we came out of a recycled-furniture catalogue."
A vast majority of Kimptons are certified by Green Key and listed on TripAdvisor's GreenLeaders program; three have achieved LEED certification. Meanwhile, the brand is in the midst of a corporate initiative to audit and reduce water consumption at all of its hotels, and is being folded into Green Engage, IHG's in-house sustainability framework that requires all of its properties to meet (and preferably exceed) certain baseline standards. Another multinational hotel brand that's attempting to implement sweeping standards on a thousands-strong portfolio is Hilton, whose LightStay platform monitors energy, water and waste at all of its 5,000 hotels.
Canyon Lodge and Cabins, Yellowstone National Park, Wyoming
When you think about "green buildings," you might first envision glassy, futuristic structures like the Westin Denver International Airport, a LEED Platinum hotel that looks like a bird. But as Canyon Lodge and Cabins in Yellowstone National Park proves, it's possible to blend contemporary sustainability practices with the architecture of the past.
Canyon Lodge's five brand-new lodges, four LEED Gold and one LEED Silver, have turned the property into the largest (by square footage) LEED-certified project within the National Park Service. These, along with a handful of restaurants and food service buildings, were designed as a nod to Mission 66, a style of midcentury architecture that was popularized by the National Park Service in the 1950s and '60s.
Yet the way the five new lodges — totaling 409 rooms — came together was a first for Yellowstone: Modular pods of guest rooms and hallways were constructed off-site in Boise, Idaho, transported to the site and stacked into place by crane. "When you're building in a controlled environment, you're much more capable of managing things like on-site waste generation," Dylan Hoffman, director of sustainability at Xanterra Parks and Resorts, which operates the facilities on Yellowstone, said in a phone interview. "They're able to manage materials and construction waste much more efficiently."
"If there are any scraps, you don't need to get rid of them — there will always be another project down the road," Hoffman said. "To couple that, you don't have as much road traffic, and you're not running materials in and out."
Hoffman acknowledged that the true backbone of sustainable design happens out of sight; say, in the mechanical systems of a hotel. To that effect, Canyon Lodge is expected to consume 30% less energy (compared to conventionally built structures), and save an estimated 3.5 million gallons of water a year.
More "in-your-face sustainability elements," as Hoffman called them, include countertops and windowsills made from fly ash, a byproduct of coal combustion, mixed with shards of glass recycled from operations across Yellowstone. Wainscoting and other trim are made from beetle kill pine, which owes its striking blue-gray marbling to a deadly blue fungus that's deposited from beetles: "It's essentially a waste product," Hoffman said.
These kinds of details are more important than ever, especially in the wake of the centennial of the NPS in 2016, Catherine Greener, Xanterra's vice president of sustainability, said over the phone. "What's going to happen when you have wild variability in the temperatures? What's going to happen in an energy-insecure future? Are people gonna love the parks to death?" she said. "How do we build for the next hundred years knowing that there's uncertainty? It's by going and building with a deep appreciation of sustainable practices."
The trick, she added, is balancing the best building possible — "one that's most sustainable," she was quick to define — with the best guest experience possible. "As you're looking at the beautiful wall, you may not realize that it's a Montana-sourced mountain pine beetle kill wood, making the best out of a really devastating epidemic in the lodgepole pines, or that parts of the windowsills or the picnic tables is from glass aggregate that was recycled in the park. You just know that it's a really cool place to stay and that it has a good feel about it."
Aug. 10, 2017, 5:20 p.m.: This story has been updated.