'Super Smash Bros.' Switch release date may skip 2017, but 'Brawlout' is coming to the console soon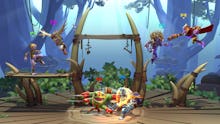 It's no secret that Super Smash Bros. is taking its sweet time coming to the Nintendo Switch. The game is one of Nintendo's most popular Wii U titles, yet the company has made no official plans to bring the game to their hybrid console. Smash Bros. on Switch may come eventually, but in the meantime it looks like another smash-'em-up will keep us busy.
Super Smash Bros Switch: Brawlout will bring percentage-based fighting to the Switch before Smash
Brawlout is a Smash Bros. clone coming in 2017 to, you guessed it, the Nintendo Switch. With Nintendo letting a game like this come to their system, it may mean that we won't be getting Smash on Switch anytime soon. Though who cares, so long as Smash-like gameplay on the Switch is on the way.
Check out the trailer below.
Like Smash Bros., the game nixes the health bar in exchange for a percentage meter. The higher your opponent's percentage, the easier it is to knock them off the stage. Knock your opponent out of the arena enough times and you win.
Also similar to Smash, Brawlout will see a character from another game enter its ranks. Hyper Light Drifter (yes, that one) joins the fight with a fighting style that we'd describe as Link meets Bayonetta. You can sign us up now for that amiibo — assuming Nintendo ever lets a third-party developer get in on its NFC-enabled tchotchke scheme.
Check out more gaming news and coverage
Looking for more Nintendo Switch news? Check out how blind gamers are using the Nintendo Switch and why you can't get your Mii to look quite like you. Nintendo's left Joy-Con issue turns out to be a hardware problem — here's how to solve it. Find out how to buy a console amid the recent restock. Learn why the Switch's cartridges taste so bad. Check out our comparison photos sizing up the Switch to the Wii U GamePad (part one and part two), or find out how to make use of ethernet without the dock and the best way to get alerts when new stock arrives.