'Hot Mic' podcast: Most US House internships don't pay, Trump TV presents the "real news"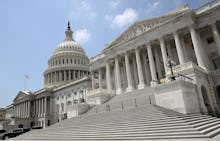 Listen and subscribe to the Hot Mic podcast from your mobile device:
Here are the important stories to know for Wednesday, August 9:
1. About 90% of members in the House of Representatives don't regularly offer paid internships.
2. Two "real news" videos have been posted to Trump's Facebook page as part of his re-election campaign.
Direct from Mic's newsroom, Hot Mic keeps listeners informed with a daily run-down of top stories, breaking news and analysis from our news team.