Rex Tillerson defends Trump's North Korea rhetoric, says no imminent threat to Guam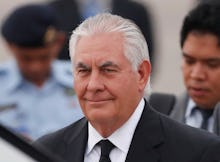 A day after tensions between the U.S. and North Korea seemed to escalate following news that North Korea had taken yet another step toward becoming a global nuclear threat, Secretary of State Rex Tillerson worked to dispel anxieties — telling reporters that the island of Guam was in no danger, despite threats, and defending President Donald Trump's heightened rhetoric.
On Tuesday, North Korea threatened retaliation against the U.S. after the United Nations' newest round of sanctions while reports also surfaced that North Korea had produced a nuclear warhead that could be fired in its missiles.
Trump, speaking from his Bedminster Golf Club in New Jersey, Tuesday told reporters that "North Korea best not make any more threats to the United States. ... They will be met with fire, fury and frankly power the likes of which this world has never seen before."
Following Trump's comments on Tuesday, North Korea warned it was "carefully examining" an attack on Guam, a U.S.-controlled Pacific island.
The president's intense, off-the-cuff remarks in the face of nuclear armament drew criticism from lawmakers. In a statement, California Sen. Dianne Feinstein warned that "President Trump is not helping the situation with his bombastic comments."
However on Wednesday, speaking to reporters before arriving in Guam, Tillerson defended Trump's comments, saying that "what the president is doing is sending a strong message to North Korea in language that Kim Jong Un would understand, because he doesn't seem to understand diplomatic language," Reuters reported Wednesday.
Tillerson also told reporters that "Americans should sleep well at night" and that he does not believe that there is "an imminent threat" from North Korea to the U.S., including Guam, the Associated Press reported Wednesday morning.