When Donald Trump threatens "fire and fury," he ratchets up the tension that could cause nuclear war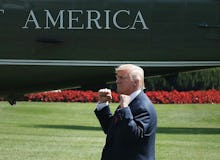 This is Mic's daily read on Donald Trump's America. Welcome to the political newsletter that hopes, for all our sakes, talk of nuclear war is merely posturing. 
Want to receive this as a daily email in your inbox? Subscribe here.
What we're watching:
Today: "They will be met with fire and fury."
More: It's now believed North Korea can put a nuclear warhead inside a missile.
Even more: The president's base is shrinking.
Yes, more: Trump is deporting fewer people than Obama.
Trump's agenda today: No public events are on the president's schedule.
"The likes of which this world has never seen before"
President Donald Trump has long signaled that he will be more aggressive in his use of military force than his predecessor. But his comments on Tuesday suggest this president may be willing to go further than any president since Harry Truman.
Responding to reports that North Korea can now put a nuclear warhead inside its missiles, Trump said the country "best not make any more threats to the United States."
"[Kim Jong Un] has been very threatening beyond a normal state, and as I said they will be met with fire, fury and, frankly, power, the likes of which this world has never seen before," Trump went on.
It's just rhetoric, for now. But it represents a major escalation of how the White House is approaching the North Korean threat. Analysts told the New York Times there is little precedent for Trump's words. On Wednesday morning, Trump said on Twitter that he has focused on strengthening America's nuclear arsenal, saying that it is a sign of U.S. military superiority the world should watch. That's yet another sharp departure from the nuclear de-escalation stance that has dominated the White House for decades.
Kim is showing no signs of stopping his country's progression toward becoming a full-fledged nuclear-armed power. The United Nations passed further sanctions against North Korea on Saturday, aiming to scale the country's exports down by a third.
But it's not clear that will prevent Kim from completing his country's long-held objective of possessing nuclear missiles that can be fired internationally. A Tuesday Washington Post report said U.S. intelligence officials believe North Korea can now put miniaturized nuclear warheads inside missiles. The country is already reportedly capable of launching missiles across the Pacific, in reach of Hawaii or even California.
North Korea also said it is "carefully examining" a strike against Guam, a U.S. territory in the Pacific — though if Kim decides to act, it is thought he would target a much larger U.S. population center.
"We need to be firm and deliberate with North Korea, but reckless rhetoric is not a strategy to keep America safe," said Senate Minority Leader Chuck Schumer (D-N.Y.) in a statement on Tuesday night.
News and insight you cannot miss:
Another poll shows Trump's support dropping. Among Trump voters and Republicans, the president's support is dropping. Only 18% of Americans now approve strongly of Trump's presidency, according to the Politico/Morning Consult survey. Another survey found that 52% of likely Republican primary voters in New Hampshire would choose Ohio Gov. John Kasich over Trump in a theoretical 2020 presidential primary.
The president claimed on Twitter that the Washington Post and New York Times were reluctant to cover a clandestine meeting last summer between Attorney General Loretta Lynch and former President Bill Clinton. The Post breaks down why that is falsea>.
A bomb exploded at a suburban Minneapolis mosque on Saturday, but the president has still not said anything about the attack. Sebastian Gorka, a top Trump national security adviser with far-right extremist ties, said the bombing could be a "fake hate crime."
A Mic investigation: About 90% of U.S. House members do not pay their interns.
There was speculation Trump was going to declare a national state of emergency to fight the opioid crisis yesterday. That didn't happen. In fact, the president offered no new initiatives and few specifics.
Fact check: Deportations during the Trump administration have actually been lower than under Barack Obama.
Trump's Justice Department is now supporting Ohio in removing infrequent voters from the rolls — a major reversal of civil rights enforcement from the Obama administration. Ohioans who sit out three election cycles and don't respond to a warning will drop off the voting rolls. That will affect hundreds of thousands of people.
"Trump gets a folder full of positive news about himself twice a day." Read more from Vice. BuzzFeed published an 11,000-word deep-dive into the partisan fight to control your Facebook feed. And Sen. Dean Heller (R-Nev.) now has a Trump-loving primary challenger.