'Pokémon' Switch Release Date: "Open-ish world" RPG to come after holiday 2017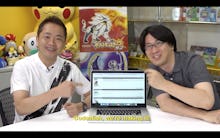 We know very little surrounding the Pokémon Stars release date. No one can say when we'll get a trailer, which Pokémon we'll see or if the Nintendo Switch game is even going to actually be titled Pokémon Stars. But we do know one thing: The company is for sure working on a game for Switch, and that's pretty damn exciting.
The latest from the folks bringing us Pokémon come from an interview with Game Informer. We don't get much, but there are tiny nuggets of info to tide us over until Pokémon Switch's release.
Pokémon for Switch will be open world —sort of.
Pokémon series producer and director Junichi Masuda and Pokémon Sun and Moon producer Shigeru Ohmori spoke in vague terms about what's to come on Switch. You can check out the video interview below:
There's next to nothing in the way of details offered up during the interview, but the most compelling part comes toward the end. When looking at forum posts begging for what fans would like to see in a Pokémon game, the Pokémon Company producers read one that asks for an open-world game. To which they respond, "We're making it now!"
The question refers to Tebbit's post on GiantBomb's forums, and it has an important distinction in it. Instead of using the phrase "open world," which we all know as large games you can freely roam, they say instead "open-ish world." Perhaps Masuda and Ohmori know this and actually mean it will be a bigger, more open game than we're used to, but not exactly an "open world" game.
Whatever the distinction, it's good to hear that the folks behind Pokémon are actually thinking of this as a console game.
When will the Pokémon Stars release date hit? Not until after holiday season.
Another key portion of the interview is the two noting that want to wait and see how people use the console — whether it be at home or on the go. Masuda and Ohmori want folks to buy the Switch this holiday season for a better sample size.
We already knew the Pokémon Switch game wouldn't come this year, but perhaps the company will be ready to drop us a trailer once they get their Christmas wish.
Check out more Pokémon news and coverage
Raids in Pokémon Go are here, and so are Articuno, Lugia and now Moltres! See how to locate the best ones and why they may be the key to legendary Pokémon. Find out how to determine how long it will take you to reach level 40, and see what we think of the Gen 2 Pokémon added to the game. Here are the kinds of Pokémon you get from 10-kilometer eggs, and here's where you can check out what you missed during the Water Festival and Solstice events.