How the White House is politicizing the Minnesota mosque bombing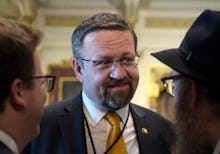 On Monday, White House deputy adviser Sebastian Gorka implied that an attempted bombing at a Minnesota mosque may have been a false flag operation by "the left."
"There's a great rule: All initial reports are false." Gorka said in an appearance on MSNBC.
"You have to check them; you have to find out who the perpetrators are. We've had a series of crimes committed — alleged hate crimes by right-wing individuals in the last six months — that turned out to actually have been propagated by the left. So let's wait and see; let's allow the local authorities to provide their assessments, and then the White House will make its comments."
On Saturday, an improvised explosive device was thrown through the window of the Dar Al-Farooq Islamic Centre in Minneapolis. No one was injured in the attack.
Gorka, who has himself been accused of ties to far-right hate groups, appeared to be suggesting that the Trump administration will only condemn a potential hate crime or tragedy once the ideology of the perpetrator is known. But the idea that Trump waits to respond to anything — let alone potential acts of violence — is thoroughly belied by his reckless Twitter habits.
After a June terror attack in London, Trump barely waited a few hours before angrily misquoting the London mayor in a tweet and using the attack to justify his own political agenda.
Yet there are plenty of incidents beyond this weekend's attack in Minnesota that never elicited a response from Trump.
On Dec. 10, a Muslim man was stabbed near a mosque in Simi Valley, California, in what authorities said appeared to be a hate crime. Trump, then the president-elect, said nothing.
On June 18, a man in London drove a van into a crowd outside a mosque in a terror attack against the city's Muslim community. That same day, 17-year-old Virginia resident Nabra Hassanen was beaten to death after leaving a separate mosque. Trump said nothing about either incident.
This far into his presidency, the only hate crime against the Muslim or South Asian communities that Trump has condemned is a stabbing attack in Portland, Oregon. Two white men were killed and one was wounded after the three men intervened in a racist attack against two Muslim women. Trump was silent on the Portland stabbing for days, provoking considerable outrage online.
Trump eventually condemned the attack in a tweet from the official @POTUS account, one he rarely uses for his own self-authored tweets.
Correction: Aug. 9, 2017