If I die, bury me in Zendaya's pink rhinestone pantsuit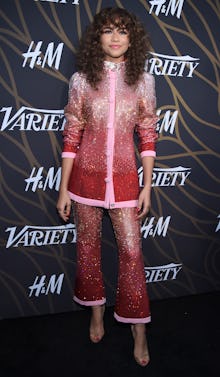 Not to be hyperbolic or anything, but if I die today or tomorrow or the next day or the day after that, maybe because of a nuclear blast or maybe not, I want you all to know that I'd like to be buried in Zendaya's pink rhinestone pantsuit from the Variety Power of Young Hollywood event.
My apologies to Hillary Clinton, but there has never been a pantsuit, in the history of fashion, that has been better.
So cheers to you, Vivetta Ponti, the designer behind this look.
The pink ombre, going from baby pink to hot pink to red. The sparkles. The high neckline and those oversized buttons. The waist that's ever-so-slightly defined. The flare of those pants. Again: the sparkles. The glitz.
I'm even obsessed with the light pink lining that outlines the top and bottom of those pants, which are just the right length.
This really is a female president power look if we've ever seen one.
If Kamala Harris or Elizabeth Warren or Kirsten Gillibrand runs in 2020 (or if Zendaya runs when she can too), we'd like this look to be reserved for Inauguration Day. We're serious.
What we're also serious about is just how much Zendaya's looks recently — for Spider-Man premieres and beyond — have absolutely ruled. Thanks to her stylist Law Roach, who also works with the equally iconic Celine Dion, Z's been killing it.
Just look at her in this hot pink Ralph & Russo dress for the world premiere of Spider-Man: Homecoming.
Like???
Barbie can go ahead and take some notes.
Now look at her at a Barcelona press event for the film.
Working that Delpozo.
And look at her in Madrid, wearing Jonathan Simkhai, doing some press too.
In June, she had the nerve to walk a red carpet in a Mario Dice dress that was all black and curves and pearls.
Audrey Hepburn who?
Even at the MTV Movie and TV Awards, an event celebrities could earnestly just attend in jeans and a black leather jacket, Zendaya wore a heavenly Zuhair Murad gown in a color that...
...really only she could pull off.
All of these are extremely good, but we still believe that pink rhinestone suit reigns supreme.
A pantsuit fit for a queen (and maybe me).