'Super Mario Odyssey' gameplay: Gamescom Nintendo streams also include 'Metroid: Samus Returns'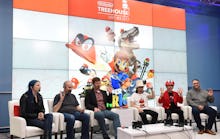 Super Mario Odyssey is one of the most anticipated games for the rest of the year, but we still have a couple of months left to wait until it's in our hands. If you're as impatient and excited as we are, you'll be happy to know that there will be more streams of the game to watch before its release.
At this year's Gamescom, the annual games conference held in Germany, Nintendo will be showing off and streaming parts of Super Mario Odyssey. We'll also get another look at Metroid: Samus Returns, a remake coming to the 3DS on Sept. 15.
According to Nintendo, these streams will be on Nintendo U.K.'s YouTube channel. If you can't watch the stream, it's also not a big deal because the content of the Super Mario Odyssey stream seems to be identical to Nintendo Treehouse's E3 stream — they'll be showing "Metro Kingdom and Sand Kingdom."
As for Samus Returns, it's unclear if the presentation will be similar to what we've already soon, but we do know that Yoshio Sakamoto, a producer on the game, will be there.
In addition to all of that, there will be live presentations going over details for Fire Emblem Warrior and Xenoblade Chronicles 2.
More Nintendo Switch news and coverage
Looking for more Nintendo Switch news? Check out how blind gamers are using the Nintendo Switch. Nintendo's left Joy-Con issue turns out to be a hardware problem — here's how to solve it. Find out how to buy a console amidst the recent restock. Learn why the Switch cartridges taste so bad. Check out our comparison photos sizing up the Switch to the Wii U GamePad (part one and part two), or find out how to make use of ethernet without the dock and the best way to get alerts when new stock arrives.