Photo-editing app FaceApp updates with Asian, Black, Caucasian and Indian filters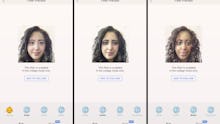 On Wednesday morning, the photo-editing app FaceApp released new photo filters that change the ethnic appearance of your face.
The app first became popular earlier in 2017 due to its ability to transform people into elderly versions of themselves and different genders. These new options, however, will likely cause some outrage: The filters are Asian, Black, Caucasian and Indian.
Selfie apps like Snapchat have taken criticism for filters that apply "digital blackface." In 2016, Snapchat released a Bob Marley filter that made people look like the singer; it darkened the skin and gave users dreadlocks. Snapchat said another one of its 2016 filters was "inspired by anime," but many people called it "yellowface," as it seemingly turned the user into an Asian stereotype.
FaceApp's newest filters, however, don't pretend they're anything but racial.
This is the original selfie I submitted to the app.
Here's how the filters make me look.
This isn't the first time FaceApp has released a racially insensitive filter. In April, the company's CEO pulled a "hot" filter from the app after users complained it was just making people's faces whiter.
"The ethnicity change filters have been designed to be equal in all aspects," Yaroslav Goncharov, the app's CEO and creator, said in an email. "They don't have any positive or negative connotations associated with them. They are even represented by the same icon. In addition to that, the list of those filters is shuffled for every photo, so each user sees them in a different order."
"The new controversial filters will be removed in the next few hours," Goncharov said in an email around 5 hours after this piece was published.
August 9, 2017, 5:31 p.m.: This story has been updated.