In 'Outlander' season 3, Claire's biggest challenge is sexist mid-20th century America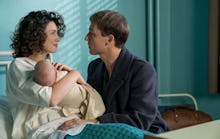 You might say that Outlander's Claire Fraser has overcome a few obstacles in her day: She's become a seasoned, albeit unwitting, time-traveler; has endured the heartbreak of delivering a stillborn daughter; and single-handedly nursed her 18th-century Scottish Highlander husband, Jamie Fraser, back to both physical and emotional health following his brutal sexual assault. But that doesn't mean dealing with sexism in the new season of Outlander is going to be a walk in the park for her, either.
Starz's fantasy drama returns for its third season on Sunday, Sept. 10, and as many fans of the show — which is based upon Diana Gabaldon's bestselling series of novels — are well aware, the first several episodes will be bittersweet: Claire (Caitriona Balfe) and Jamie (Sam Heughan) remain separated between centuries, since the second season ends with the World War II combat nurse leaving 1746 to return to 1948.
Her traveling back to the 20th century is not a decision the passionate couple makes lightly: The climactic Battle of Culloden, between the British Redcoats and the Scots, is fast approaching, despite the season-long attempts by the Frasers to stop it from happening. With Jamie's impending death on the battlefield looking like an almost-certainty (he actually winds up surviving), the Scotsman sends his wife back through the magical stones at Craigh na Dun. It's a last-ditch effort to save a pregnant Claire, who's carrying Jamie's child.
In the season three premiere, Claire is back in her own time period, where she's trying to make a life for herself with the first husband she left behind (Tobias Menzies' Frank Randall) at the start of season one. From the few glimpses viewers got in season two, we already know this is a Herculean task, because of Claire's grief over losing Jamie. But season three offers up a timely new wrinkle that makes the character's story even richer than it was before: American sexism.
After having participated on the front lines in both World War II and the Jacobite Rising, Claire kicks off season three with one helluva cold shower upon her arrival in 1948 Boston. No, not that she's without her hunky, kilt-wearing Scotsman (though that's definitely a depressing thought), but the demoralizing news that American wives and mothers are expected to be little more than happy homemakers with skill sets that don't go beyond cooking, cleaning, child care and cosmetics application. This attitude, which permeated mid-20th-century U.S. culture, is a direct affront to Claire's innate feminism and her years of experience as a nurse.
Here we have a woman, who, in the very first episode of Outlander, is quickly established as a resilient medical professional hardened by the grisly nature of World War II. Then comes three years living in the rustic wilds of the 18th-century Scottish Highlands — which includes a brief detour to hang with the Parisian aristocracy — and learning how to treat the gnarliest of wounds and the deadliest of diseases without antibiotics or anything remotely close to sterile equipment.
Now Claire is thrust into a repressive world where she's just another wife and mother-to-be. It's a world in which Frank's chauvinist new boss at Harvard University dresses her down for something as basic as reading The Boston Globe and contributing to a political conversation; he stops just short of patting her on the head before encouraging her to get back to her "domestic concerns."
What makes a scene like that one so ironic is that, from this perspective, 18th-century Scotland looks mighty progressive compared to the good ol' U.S. of A of 70 years ago. Not that Claire doesn't face sexism back in the 1700s — season one's infamous spanking scene is something viewers likely won't ever forget — but when it comes to her healing skills, which are far better than those of any of the actual doctors at the time, the Scots of the 1740s regularly welcome her expertise as a way of, you know, not dying.
So while we, the audience, hardly need more of an incentive for Claire to return to her long-lost Highlander husband — a broken heart is reason enough — watching her also have to deal with patronizing men such as Frank's odious superior just increases our longing to have her ditch creature comforts like hot baths and trousers, and instead opt for corsets and privies.
And it's not even that Harvard blowhard who's the worst of these loathsome male authority figures. That honor goes to the dismissive doctor who attends the birth of Claire's daughter, Brianna. The doctor all but ignores her during delivery, even though Claire is the one who is in labor, and has actually participated in home births.
To this guy, Claire is just a vessel who "needn't worry her pretty little head," therefore her demands to remain an active participant in the birth of her own child fall on deaf ears. Given Claire's history with stillbirth, this is an upsetting scene to watch — and Balfe pulls it off with aplomb. This is a character who, despite the general second-class status of women in the 18th century, for the most part still manages to have a say over her own body when she's living in the 1700s.
In the rare instances that she doesn't, as in the aforementioned spanking scene, there's hell to pay afterward, as Claire rightfully threatens Jamie with some serious bodily harm if he ever does that to her again — and he doesn't. There's also Claire's controversial rape by King Louis XV in season two, which she reluctantly agrees to in order to free Jamie from the Bastille, but it's either that or letting her husband rot in prison.
As we know from the end of season two, Claire does ultimately become a surgeon, and these early episodes of season three help us better understand her motivation in doing so. Being a medical professional — or, as she's known in the 18th century, a healer — is something that's just as much a part of Claire's identity as her love for Jamie Fraser. Since she can't be with Jamie right now, Claire needs to find a way to move on without him. If that means focusing on becoming a doctor, and challenging the status quo just as she does when she's first adapting to life in the 1740s, then so be it.
The ruling class of white, male students and faculty at Harvard Medical School can sneer in her direction all they like — but I'd venture to guess that if any of them fell through the stones at Craigh na Dun, they wouldn't have the slightest idea of how to treat deadly lily of the valley poisoning with only plants and herbs at their disposal.
These men have no idea what they're up against.
The third season of Outlander premieres Sept. 10 at 8 p.m. Eastern on Starz.