'Overwatch' Summer Games Skins: Nobody can figure out why McCree's belt says "SAMF"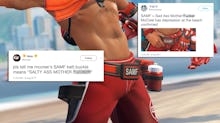 Ah, yes, the summer season has officially come to Overwatch in its new Summer Games event, and you know what that means: It's time for Overwatch fans to argue about something completely and totally trivial. All in good fun, of course.
This time around, the fandom's debating a particular detail on McCree's new lifeguard outfit. You know, the one where he's baring quite a bit more skin than usual.
But wait, what's that? His belt says "SAMF." In his other skins, McCree's belt says "BAMF," which stands for "badass motherfucker." But what the heck is "SAMF"?
Nobody knows for sure. But fans have theories.
Overwatch Summer Games: Nobody knows what "SAMF" means
There's one camp that thinks the "S" stands for "safe." You know, because he's dressed as a lifeguard.
But maybe it's a reference to McCree's lingering emotional trauma from his days in Blackwatch, meaning he's a "sad-ass motherfucker."
Then again, McCree's looking pretty hot, so, maybe the "S" stands for "sexy."
Maybe it's "sandy," because he's at the beach?
Some fans are so puzzled that they've spiraled into some kind of free word association blackhole, looking for answers across the entirety of the English language. May they find peace soon.
My personal favorite suggestions, however, throw the whole "blank-ass motherfucker" formula to the side in favor of something else entirely.
Mic has reached out to Blizzard for an answer and will update with any response. Please, Blizzard. Help these poor people find peace.
More Overwatch news and updates
For more on Overwatch, check out the rest of what Mic has to offer. Here is an intro to the cute, new "Wholesome Overwatch" subreddit, a look at some gorgeous Overwatch-themed PS4 and Xbox One controllers, a cool Easter Egg in the new Horizon Lunar Colony map and a criticism of Blizzard's failures in its design of Symmetra.