'Game of Thrones': Let's overanalyze these photos from Sunday's episode, "Eastwatch"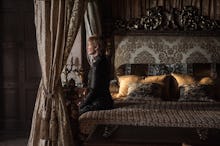 Can't wait to see the fallout from the epic, fiery dragon battle that ended Sunday's Game of Thrones? Worried about Jaime Lannister, since last we saw the Kingslayer he was unconscious, sinking into the depths of a river?
Well, HBO has just released new photos from the upcoming episode of Thrones, and the images aren't likely to assuage any of those concerns. (But don't worry, Jaime's probably fine.) Instead, the photos feature a lot of what you might expect: characters brooding, often staring vacantly into the distance, not giving away too much in the way of plot.
But there's actually something to glean from these new photos, and that's what they don't include: any shots of characters up north. It's quite telling, because the episode is titled "Eastwatch," which presumably refers to Eastwatch-by-the-Sea, one of the Night's Watch outposts that Jon Snow sent Tormund Giantsbane and a group of wildlings to defend from the White Walkers. Considering the episode's name, I suspect we'll be spending a good chunk of time at that location. Should we also expect a showdown with the White Walkers?
We'll find out on Sunday. In the meantime, here's what we can take away from the eight photos that have already been released.
Jon showing off the Winterfell fashion line
True story: Actor Kit Harington was concerned filming scenes next to a large cliff where the fictitious Dragonstone is set, because the large gusts of wind and his enormous cape could've sent him flying over the edge.
Luckily, since he's been doing the Thrones press tour, we know Harington survived the ordeal. Jon is back at that cliff in "Eastwatch," looking as mopey as ever while striking a pose like one of those models from an utterly pretentious Giorgio Armani commercial. Some things never change.
Tyrion Lannister and Daenerys Targaryen, post-"Loot Train"
The episode preview for "Eastwatch" implies that Dany will be dealing with some Lannister prisoners — or, in other words, soldiers that weren't roasted alive by Drogon's flames during the poorly named "Loot Train Attack." The above photo basically confirms the same.
What'll be interesting is if Jaime and Bronn are among the captured, and how Tyrion might react if Dany wants to punish them severely. As she so eloquently puts it in the preview, "I'm not here to murder. Bend the knee and join me, or refuse and die." So the Lannister's options kind of suck.
Did you forget about Gilly? Be honest.
Sam Tarly's time at the Citadel has been pretty shitty and the source of some of Thrones' best editing work to date. But we haven't really checked in on Gilly much this season, who's busy raising little Sam. What are the odds that the above shot is a still from Sam catching Gilly up on all of his adventures cleaning bedpans and scraping skin?
Cersei Lannister, with fresh sheets
Thankfully, it appears Cersei's handmaid Bernadette cleaned the queen's sheets after she requested it following a passionate night of lovemaking with her brother, Jaime.
Man, subjecting a woman to a lifetime of imprisonment in the Red Keep — and condemning her to watch her daughter slowly die and eventually decompose — really sets the mood.
Is Varys less tan now, WTF?
This season on Thrones, characters are reconciling with a few heady concepts: the horrors of political ambition; the value of adhering to long-held, ancestral traditions and family ideals; and, in some cases, balancing what's best for themselves with what's best for the realm. But I want to talk about Varys' tan.
Speaking with Melisandre outside the walls of Dragonstone in the season's third episode, the dude was looking as crisp as a barbecued Lays. But in this photo, he seems kind of pasty. Does any of this relate to the theory that Varys is a merman? Probably not, but I wanted to bring that up anyway.
Tyrion looks sad
On a more serious, non-Varys-is-a-mermaid note, one of my favorite little moments from the most recent episode was when a Dothraki leader quipped to Tyrion that his people aren't good at fighting. Yes, he's on Dany's side, but Tyrion wasn't pleased watching bannermen for House Lannister get burnt to a crisp. (Also, Jaime and Tyrion's former BFF, Bronn, were there!)
Tyrion looks understandably somber surveying the damage after the battle. Will "Eastwatch" be the episode where Tyrion and Jaime finally reunite?
Oh good, Tyrion and Varys have wine
The frenetic pace of season seven has meant fewer moments for characters to sit back, sip some wine and do some scheming. That's Varys and Tyrion's forte!
Luckily, it looks like they'll have a quieter moment to reflect on the (ugh) "Loot Train Attack." Perhaps they can discuss Dany's concerning, Mad King-esque characteristics, and why she might end up being the series' true villain. (I'm all in on that theory, by the way.)
Yeah, Dany, he's so good at brooding
After enough sexual tension to fill an entire cave (and its cave paintings that Jon may or may not have drawn himself), Jon and Dany are hanging out again at Dragonstone, by his favorite brooding cliff.
What's more likely to happen first: Will Jon bend the knee and pledge his loyalty to Dany, or will these two hook up?
The fifth episode of Game of Thrones' seventh season, "Eastwatch," airs Sunday at 9 p.m. Eastern on HBO.
Mic has ongoing Game of Thrones coverage. Follow our main Thrones hub here.