5 active-duty transgender service members have filed a federal lawsuit against Trump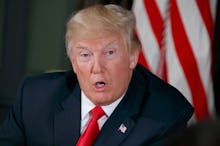 Five active-duty transgender service members filed a lawsuit Wednesday against President Donald Trump and key members of his administration over Trump's announcement of an immediate ban on trans people serving in the U.S. military.
The lawsuit — which names Trump, Defense Secretary James Mattis and Joint Chiefs Chairman Joseph Dunford among its defendants — states that the plaintiffs, whom the complaint does not name, openly identified as transgender after former Defense Secretary Ash Carter overturned the ban preventing their service in 2016.
Though Trump's proposed reinstatement of the ban has not been made official policy, the Jane Does who filed suit argue that the looming possibility has resulted in the loss of "the stability and certainty they had in their careers and benefits, including post-military and retirement benefits that depend on the length of their service."
The plaintiffs ask that the court rules unconstitutional Trump's proposed ban on trans people from military service and permanently prohibit "the categorical exclusion of transgender people from military service."
Lawyers for the National Center for Lesbian Rights and GLBTQ Legal Advocates & Defenders filed the lawsuit on behalf of the transgender service members. You can read the lawsuit here.
One of the plaintiffs told the NCLR they were worried about what the ban meant for their ability to provide for their family.
"Last year, the Department of Defense announced that transgender people could serve openly," one plaintiff said, according to the NCLR's statement. "I was very relieved and came out as transgender to my commanding officers, who were supportive. My experience has been positive and I am prouder than ever to continue to serve. I am married and have three children, and the military has been my life. But now, I'm worried about my family's future."
In the statement, NCLR legal director Shannon Minter chastised the president for creating a "tidal wave of harms" with his tweet about the ban's possible reinstatement.
"Transgender service members have been blindsided by this shift and are scrambling to deal with what it means for their futures and their families," Minter said. "The president's mistreatment of these dedicated troops will serve only to weaken and demoralize our armed forces."
A spokesperson for the Department of Defense told Mic that the department is aware of the lawsuit, but is "not able to comment due to pending litigation."
Citing stiflingly high costs associated with their service, Trump announced on Twitter in July that he was banning transgender people from serving in the U.S. military.
"After consultation with my generals and military experts, please be advised that the United States government will not accept or allow transgender individuals to serve in any capacity in the U.S. military," Trump tweeted. "Our military must be focused on decisive and overwhelming victory and cannot be burdened with the tremendous medical costs and disruption that transgender in the military would entail."
The president's shock announcement sparked massive protests and drew the ire of many, including members of Trump's own party.
Retired Army Sgt. Shane Ortega, the first trans soldier to serve openly following Carter's lifting of the ban on transgender service, called the president a "war dodger" with "no connection to reality."
Shortly after the president's announcement, Marine Gen. Joe Dunford, chairman of the Joint Chiefs of Staff, messaged military leadership to let them know there would be no immediate change to the military's current policy on transgender service members.