'The Glass Castle' director Destin Daniel Cretton on Brie Larson and listening to critics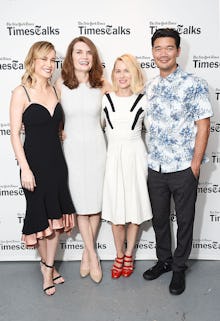 Before she was winning awards left and right for playing a captive young mother in 2015's Room — but after she first made an impression as hard-rock ex Envy Adams in 2010's Scott Pilgrim vs. the World — Brie Larson made huge waves in a tiny movie. 2013's Short Term 12 grossed just over a million dollars at the box office, failing to capture major audience interest. But as an empathetic youth counselor, Larson got noticed. She and the film won a slew of awards, helping set Larson on her current career path.
Behind that movie was Destin Daniel Cretton, a director making his second feature. A South by Southwest favorite, Cretton was a filmmaker on the rise, and Short Term 12 helped launch his work into the mainstream. Since then, Cretton has spent years working on an adaptation of Jeannette Walls' hugely successful 2005 memoir The Glass Castle, a recollection of the writer's difficult childhood growing up as a nomad with her dysfunctional family.
The film, which arrives in theaters Friday, reunites Cretton and Larson once more, with the Oscar-winning actress portraying Jeannette's eldest incarnation. Two younger actresses (Ella Anderson and Chandler Head) appear as Jeannette in flashbacks that explore, among other story threads, Jeannette's thorny relationship with her aimless, rebellious, alcoholic father (played by Woody Harrelson).
Ahead of the film's release, Mic talked with Cretton via phone about his creative partnership with Larson, how he adapted Walls' story and what he thinks of his critics. This interview has been edited and condensed for clarity.
Mic: Talks about you getting involved with The Glass Castle first surfaced back in 2013. What is it about this story that kept you attached for years?
Destin Daniel Cretton: I personally connected with Jeannette's story on so many levels. As soon as I started reading that book, I couldn't put it down. I felt incredibly lucky to be a part of trying to bring this to the screen. I always try to work on something that teaches me something about the world. Whether or not the project happens, I still feel like I haven't wasted my time exploring that. This is definitely one of those.
What did The Glass Castle teach you about the world?
DDC: It told me something about the human spirit, that there are certain things that humans go through that can crush some people and suffocate them and make them turn inward. Other people, like Jeannette, are able to look at those same situations and flip them — somehow turn them into something that is no longer shameful or that you have to hide. She has learned to just own [it] and turn it into a strength. That's very inspiring to me.
This is your second collaboration with Brie Larson after Short Term 12. How would you describe your creative relationship?
DDC: At this point, it's just like getting together with a friend and trying to make something. She's incredibly smart, incredibly collaborative. I love hearing any and all of her ideas about character, story and how to look at a scene. She's also just a lot of fun to have on set. It felt like a bit of a family reunion.
Jeannette's adult self is much less of a focal point in the memoir. Why did you decide to bring her in throughout the film and structure the story in flashbacks?
DDC: That was always the idea, from the beginning. The book is obviously told from [Jeannette's] perspective. In the prose, you're constantly reading Jeannette's adult voice talking about things that happened in the past. In the movie, we don't have that ability. We wanted to remind you in the past scenes that we are still watching a woman process [her past].
In 2016's Moonlight, director Barry Jenkins didn't let the three actors playing Chiron at different stages of his life interact until after filming. Did you have the three actresses playing Jeannette collaborate at all?
DDC: They actually did collaborate. Brie and Ella got together and talked through some of the scenes that Ella would be doing, and how they would relate to Brie's scenes where she's remembering them. That was pretty unique. When Ella was shooting some of her bigger scenes, Brie would come to set when she wasn't scheduled that day. She'd just watch and give encouragement. It was cool to see that relationship form.
It seems like Brie was far more involved than just playing her character.
DDC: She's like part of the team. She was extremely helpful in so many ways, motivating everybody to get together for rehearsals. We were always going to her place to go through rehearsals with all the actors. She's a natural leader in that sense.
The relationship between Jeannette and her father, Rex, is a tough connection to depict — he's so horrid to her at times, but is ultimately her father whom she loves. As a director, how do you approach that relationship in a way that doesn't feel like judging the characters?
DDC: I owe a lot of that to the performers. They never judged their characters either. Woody and Brie, they really love the people they are representing. They're always trying to show them as multifaceted, that you can love them one moment and hate them the next. For me, I find it very easy to love somebody that I don't understand. Hopefully, this story gives you enough information for each of these characters to at least see a glimpse of where this pain is coming from, and to see them as people a little bit more.
You're coming off Short Term 12, a passion project that was almost universally beloved and earned awards recognition. Then you come to a movie like The Glass Castle, an adaptation of someone else's memoir, and it's getting a more mixed reception in early reviews. Were you worried about the response to The Glass Castle after such a critically acclaimed feature?
DDC: Of course. That's just human tendency, right? It's the worst thing in the world, but you naturally do it. That's the mental battle of everything I do, battling that want for acceptance, but also trying to remind myself why I do what I do. Even when we were winning those awards for Short Term 12, that was a battle in itself. Trying desperately to not be caught up in that praise — because I know for a fact that, inevitably, that's not going to happen every time. If I define myself by that, it's just a setup for mass disappointment.
That's why I try to constantly define myself by the process of doing what I do and doing what I love. The things that I can't control ... [I'm] OK with it. I try to see it all as part of the game and the conversation that happens when a movie comes out. Reviews don't always feel that great. But the movie is connecting with certain people in a very special way. I couldn't be prouder of this product and the people who were involved in it. That's what I try to cling to.
Now that you've worked together twice, what are you excited to collaborate on with Brie moving forward? I assume you'll be working together again.
DDC: I hope so! I don't have many grand plans for my career. I just take it one thing at a time. But I'll work with Brie any chance I can.
The Glass Castle opens in theaters Friday.
Mic has ongoing movies coverage. Please follow our main movies hub here.