Donald Trump issued the strongest threat yet against North Korea. They called his bluff.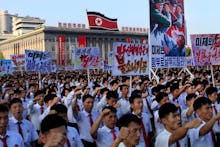 This is Mic's daily read on Donald Trump's America. Welcome to the political newsletter that wishes Mitch McConnell would tweet shade.
Want to receive this as an email in your inbox? Subscribe here.
What we're watching:
Today: North Korea says it will launch missiles into the water outside Guam.
More: The country regularly uses bellicose threats, but now President Donald Trump does too.
Even more: The FBI raided Paul Manafort's home in late July.
Yes, more: The rift between Trump and Mitch McConnell appears to be growing.
Trump's agenda today: Lunch with Vice President Mike Pence.
How North Korea called Trump's bluff
A day after President Donald Trump's "fire and fury" comment, we know the consequence of heated rhetoric from the U.S. toward North Korea — a planned missile strike.
North Korea called Trump's bluff on Wednesday and said it will launch missiles into the ocean near Guam, an American territory in the south Pacific that houses thousands of U.S. military personnel. More than 160,000 people live on the island that is south of Japan and east of the Philippines.
Such a missile test from North Korea would be unprecedented. But perhaps more importantly, it would show Kim Jong Un, the country's supreme leader, is willing to push Trump to the edge of conflict in his quest to blackmail the world. Officials said Kim would ultimately decide whether to pursue the missile-launching strategy.
On Wednesday, North Korea dismissed Trump's comments as "a load of nonsense" and said "only absolute force" would make the U.S. president pay attention. Experts who spoke with Mic saw Trump's rhetoric as similar to the tactics long-employed by North Korea — potentially a destabilizing change in the relationship because they make American actions unpredictable for North Korea.
At least one of Trump's top advisers saw the need to tone down the heated words. Secretary of State Rex Tillerson said Americans could "sleep well at night" and urged diplomacy. But Secretary of Defense James Mattis said North Korea risked "the end of its regime and the destruction of its people." The two-sided messaging reflected a lack of coordination in the administration — just as Trump improvised the "fire and fury" comment a day earlier.
Note: Trump has still not nominated an ambassador to South Korea. That's proving to be a problem during this crisis.
The timeline: North Korea says it will fire four missiles into the ocean near Guam by mid-August. The missiles would fly over Japan — a major provocation on its own — and demonstrate North Korea's ability to land nuclear missiles in South Korea, Japan or U.S. territories.
What to know about the raid on Paul Manafort's home
An apartment in Alexandria, Virginia, was at the center of special counsel Robert Mueller's Russia investigation late last month. The Washington Post reported the FBI led a predawn raid on the former Trump campaign chairman's home searching for documents that would aid the Russia inquiry.
The raid requires a search warrant. To obtain a search warrant, a judge must be convinced a crime may have been committed. That warrant sought tax, banking and other documents that could be helpful to the investigation. The move is another major step for the monthslong investigation that has already impaneled a grand jury and investigated Manafort, former national security adviser Michael Flynn and Trump campaign aides.
News and insight you cannot miss:
Trump has targeted Senate Majority Leader Mitch McConnell on Twitter twice in the past 24 hours. Trump criticized McConnell for how he handled working to repeal and replace the Affordable Care Act. You can read McConnell's critique of Trump from earlier this week here.
An inflatable chicken with Trump's likeness was spotted near the White House. It was last used at the Tax March to protest Trump not releasing his tax returns.
Trouble keeps brewing for Sen. Jeff Flake (R-Ariz.): A top Trump donor is now funding a primary opponent to the conservative who has been a top critic of the president.
"Dictatorial." "Arrogant." "Pompous." — a few of the words Nina Turner, head of Our Revolution, used to describe the Democratic National Committee in a BuzzFeed interview.
Elected progressives and reproductive rights advocates are silent when asked if Democratic candidates must be pro-choice.
How the White House is politicizing the Minnesota mosque bombing. And five active-duty transgender service members are suing Trump.