The 7 best 'Halt and Catch Fire' episodes to watch before the season 4 premiere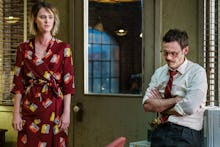 There's always a show that critics will berate people for not watching. At the end of 2016, we mourned the quiet departure of Sundance's Rectify; in spring 2017, it was HBO's criminally unseen drama The Leftovers. And look, I totally get it — there's way, way too much TV out there to keep track of. Staying up to date on television is part of my job, and even I have fallen behind on a lot of shows I'd love to be watching. But you should find time to give one series a chance this summer: Halt and Catch Fire.
AMC's 1980s tech drama will begin its fourth and final season Aug. 19. Considering the show's anemic ratings, it's a small miracle that the creators went into this upcoming season knowing they'd get to write their own ending. The series survived by AMC's good graces and effusive praise from critics — much like FX's The Americans (which is another show you should really, really watch).
With its farewell season fast approaching, this is a great opportunity to get onboard with Halt and Catch Fire and revisit the birth of the digital age. Now, it can be intimidating to know you have to binge through three full seasons of TV to get caught up in time for a premiere. So we've put together a primer highlighting the show's best episodes — these seven installments hone in on the enthralling, ever-evolving relationships between the show's four main characters, who all take turns commanding the spotlight and playing the antagonist. You may find it so engrossing that you'll end up burning through the rest of the episodes anyway. The first three seasons are available on Netflix, if you're so inclined.
With that, here's seven, must-watch Halt and Catch Fire episodes to check out before season four premieres.
Season 1, Episode 1, "I/O"
The first season of Halt and Catch Fire never really finds it footing — season two is when the show transforms from a slightly above-average tech drama to truly compelling television — but the pilot still provides the necessary background for the main characters you'll follow throughout the series.
You'll meet the enigmatic salesman Joe MacMillan (Lee Pace), who will immediately give you Don Draper vibes. There's the brilliant but erratic coder Cameron Howe (Mackenzie Davis), who is also occasionally Joe's love interest. You'll also get introduced to the Steve Wozniak-esque engineer, Gordon Clark (Scoot McNairy), who has lost the passion for his work after a failed attempt at creating his own computer. Gordon's undervalued wife, Donna (Kerry Bishé), is also a tech whiz — they built that computer together — but she spends most of the season working a dead-end job and raising their two daughters (and yes, that's supposed to frustrate you).
But don't be turned off by the two women being relegated to the sidelines as respective love interests. In the second season, Halt and Catch Fire leaves behind the arc of Joe and Gordon building a computer to rival Apple's Macintosh; instead, it embraces a story that puts Cameron and Donna in the foreground, as they try and get an online gaming company off the ground.
Season 2, Episode 6, "10Broad36"
In season two, the show focuses on Cameron and Donna's gaming venture, Mutiny, which is using servers from a company that's run by Joe's father-in-law. (Joe and Cameron break up in the second season premiere and, after a time jump, he's engaged to someone else — yeah, it's a lot.) Meanwhile, Gordon has to reconcile with some serious, potentially fatal health issues. Yet he isn't sure whether he can even tell his wife about his deteriorating health on account of her crazy workload.
The heartbreaking dynamic between Gordon and Donna — as Donna struggles with the responsibilities and mounting stress of balancing work and family — reaches an emotional apex in "10Broad36." Both characters make devastating decisions that will affect their relationship for the rest of the series, involving infidelity and abortion.
"10Broad36" explores the fragility of Donna and Gordon's marriage, as well as the sacrifices each character has made in the hopes of succeeding in the industry. Yet the question remains: Will Mutiny fall apart alongside their marriage?
Season 2, Episode 9, "Kali"
By this point in the season, Westgroup, the company owned by Joe's father-in-law, Jacob Wheeler (James Cromwell), has plundered Mutiny and created its own gaming platform. Considering how untrustworthy Joe has been throughout Halt and Catch Fire — he immolated a van of his own computers in season one — Cameron blames this betrayal on him.
She responds in kind during a Westgroup stockholders meeting, when the company plans to unveil its Mutiny knockoff. Cameron's actions — essentially, planting a virus to destroy the system — directly implicate Joe. With Joe's notoriously shady reputation, it destroys his standing, as well as his marriage to Jacob's daughter, Sara (Aleksa Palladino).
What's ironic, and quite tragic, is that Joe spends most of the season reconciling with the way he conducts business, opting for an honest and honorable route moving forward. He even pays tribute to Cameron and her work on Mutiny at the stakeholders meeting. Cameron turns the tides on him by doing something Joe would do: Destroying everything and starting over from scratch.
Season 3, Episode 2, "One Way or Another"
When the third season picks up, Cameron and Donna have already moved a revamped Mutiny to Silicon Valley, and they're looking for a first series of funding from a venture-capitalist firm. (A quick aside on Joe: He's in California, too, running an anti-virus software startup, and has transformed into a surfing, Zen-master douchebag, who's basically doing a Steve Jobs impersonation. It's really great.)
As they try to secure their funding, Cameron and Donna quickly learn about the very real — and, unfortunately, still prevalent — culture of sexism in Silicon Valley. Some firms are immediately turned off by the fact that their company is headlined by two women. In "One Way or Another," only one firm agrees to meet with them a second time, but that ends in disaster when a dinner with two male business partners comes with some sexually charged expectations. "I'm sorry, but nobody wears that shade of lipstick unless they have come to play," one man says to Donna.
When they finally get the funding they need at the end of the episode, it's through a firm headed by a woman, Diane Gould (Annabeth Gish). She understands first-hand the toxicity of the male-dominated industry; it's why she still wears her wedding ring, even after a divorce.
Season 3, Episode 5, "Yerba Buena"
"Yerba Buena" doesn't move the show's story forward in exceptional ways, but it gives the audience a second to breathe and highlights the character's most personal relationships. Donna and Gordon get some much needed personal time, a rare occurrence for them since moving to California; the move was as much about saving their marriage as it was bringing Mutiny back from the dead.
Cameron briefly leaves California and returns home to collect her dead father's belongings before her mother throws them all away. (It's implied Cameron had a very close relationship with her late father, to the point that she tried to embody him: She would occasionally wear his clothes, and Cameron isn't even her given name — it's his, and she's just adopted it.) And Joe, who is bisexual, anxiously awaits the results for a lover's medical test. Brief glimpses of Joe's anguish heavily implies that his partner has contracted HIV. Pace doesn't oversell the emotion, though — that just isn't Joe's style; it comes in short but devastating bursts.
No one is especially happy, and everyone, in their own way, needs saving. "Yerba Buena" serves as a solemn reminder of how, over three seasons, these characters have grown in some ways — and stayed hopelessly the same in others.
Season 3, Episode 7, "The Threshold"
All throughout Halt and Catch Fire, there's an undercurrent of tension between Cameron and Donna, but it escalates to a new level in the second season, once they become the focus of the show. When they're founding Mutiny, their differing philosophies — Cameron is creative and spontaneous, Donna is business-focused and conservative — constantly clash. And their rocky foundation finally crumbles in "The Threshold."
Put simply: Donna wants to take the company public, while Cameron wants to fix some of Mutiny's underlying problems first. You understand both of their perspectives — Cameron knows Mutiny can be improved, but Donna understands the market for the company might not exist in a year or two.
It's not a life-or-death situation — the kind that made AMC hit Breaking Bad such a thrilling watch — but it's Halt and Catch Fire at its most suspenseful. The central characters take a vote on the future of Mutiny; putting two seasons' worth of painstaking work into a handful of arms being raised in a conference room. By the time the vote's over, Mutiny will never be the same, and neither will the relationship between the show's central women.
Season 3, Episode 10, "NeXT"
At the end of the season, Mutiny is dead, and so is Joe's anti-virus company. On top of that, Donna and Gordon are divorced and Cameron has moved halfway across the world to develop games for Atari in Japan. But the group comes together in the season three finale to talk about a promising new tech venture: the World Wide Web.
Slowly but surely, they develop a plan that could help usher in our modern digital age. But there's a catch: Cameron won't agree to work on the project if Donna is involved. So Donna agrees to leave, but not without the intent of pursuing the very same venture on her own.
And that's where we're headed going into season four: Everyone is after the same goal, as the series, which began in the 1980s, gets closer to our present by moving into the 1990s. Halt and Catch Fire is partial to time jumps, so viewers shouldn't be shocked if we, at some point in the final season, end up even closer to 2017.
In the process, the series may answer its most fundamental questions: How did we get to our technological now? And, more importantly for these four characters: Was it all worth it?
The fourth and final season of Halt and Catch Fire premieres Aug. 19 at 9 p.m. Eastern on AMC.