'Monster Hunter XX' Demo for Switch: You can play for free right now — there's just one catch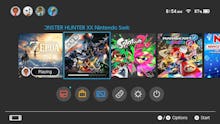 Monster Hunter XX on Nintendo Switch may not arrive until Aug. 25, but you won't have to wait that long to play. Thanks to a Nintendo eShop demo, Monster Hunter fiends can head to the digital store and grab the free sample version of the game. There's only one catch.
Monster Hunter XX is only announced for Japan, and so it's only available in that country's eShop, which is accessible worldwide. Hope you've been brushing up on your Japanese.
Monster Hunter XX Switch demo: How to grab the game even if you don't live in Japan
Monster Hunter XX may only be available on the Japanese eShop, but accessing it just takes setting up a new Nintendo account and a few taps of your Switch screen. Here's what you need to do.
Head to the "getting started" section of My Nintendo here. Follow the motions and when you're asked what country/region you belong to hit Japan. Finish up setup and then grab your Nintendo Switch.
On the Switch, set up a new user profile in the Settings section under Users. Tap on Add User and, when prompted to login to my Nintendo enter the credentials of the account you just created.
Finish up setup and you're done. You can now browse Japan's eShop and because the Switch is free of region coding you can even download and play its games too.
Now if you'll excuse us, we have some monsters to hunt.
Check out more Nintendo Switch news and coverage
Looking for more Nintendo Switch news? Check out how blind gamers are using the Nintendo Switch and why you can't get your Mii to look quite like you. All your favorite rappers are using the Switch so we rounded up the best. Nintendo's left Joy-Con issue turns out to be a hardware problem — here's how to solve it. Find out how to buy a console amidst the recent restock. Learn why the Switch cartridges taste so bad. Check out our comparison photos sizing up the Switch to the Wii U GamePad (part one and part two), or find out how to make use of ethernet without the dock and the best way to get alerts when new stock arrives.