What Melania Trump wore her 29th week as first lady — the one low-key time we saw her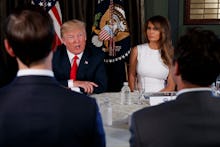 Melania Trump is in the middle of a 17-day vacation with her husband in New Jersey and fittingly, she's been practically invisible. After just one unofficial sighting last week, which we only knew of because she posted about it on Twitter, Trump appeared just once again this week, but in a more formal capacity with her husband.
Judging by that one appearance alone, it appears as though Trump is sticking to her fashion staples, wearing a white sleeveless dress that's almost identical to the one she wore last week.
Here is what she wore:
Tuesday, Aug. 8: A white sleeveless dress for a briefing in New Jersey
We don't know much about this dress because, well, we didn't see the entire thing. The only glimpse we got of Trump this week involves her sitting at a table next to her husband, while he gave that briefing that sent everyone into a panic spiral about getting bombed to smithereens.
Living in America is fun now, isn't it?
Anyway, back to fashion: We unfortunately couldn't identify the designer of this dress, though we can say that although it looks very similar to the Michael Kors one she wore last week, it's definitely not the same. Maybe it's this white dress from Opening Ceremony, or this white dress from Calvin Klein.
Who's to say?
You can see previous recaps of what Melania Trump wore here.