Here's why North Korea has made Guam ground zero for its threats against the US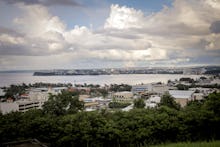 North Korean state media is reporting that the Kim Jong Un regime's plan to attack Guam could be ready in days, according to CNN.
The potential strike against the Pacific United States territory follows heated, improvised remarks from President Donald Trump — which the administration has defended as a "strong message" to the isolated country and others have feared escalated an already tense situation on the Korean peninsula.
"North Korea best not make any more threats to the United States," Trump said from his Bedminster, New Jersey, golf club Tuesday. "They will be met with fire, fury and frankly power the likes of which this world has never seen before."
Within hours of the tough talk, North Korea announced it was "carefully examining" a strike against Guam, bringing the two countries — whose turbulent relationship goes back decades — once more to the brink.
Why is North Korea threatening Guam?
The small island has long been an important outpost for the U.S. military — and a target of North Korean threats.
The U.S. captured Guam from Spain in 1898 in the Spanish-American War. It was occupied by the Japanese in 1941 during World War II, but was reclaimed in 1944's Battle of Guam by the U.S., who made the 212-square-mile island an unincorporated territory in 1950 — granting American citizenship to its residents, but limited participation and influence in the U.S. government.
Along with tourism, the U.S. military plays a major role in Guam's economy. The island is home to Anderson Air Force Base and Naval Base Guam, and is strategically important to U.S. military dealings with North Korea, just over 2,000 miles away.
The island — home to about 162,000 people — hosts 7,000 military personnel and four fast-attack submarines, according to the Associated Press. It has seen recent — and controversial — expansions in its military presence, which some have likened to "colonization" while others have lauded its economic benefits.
As a U.S. outpost relatively close to the Korean peninsula, it has been on the front lines of the simmering tensions between Washington, D.C., and Pyongyang, North Korea. North Korea has threatened Guam on several occasions, including in 2013, when it suggested it would strike military bases on the island in retaliation against U.S. training exercises over South Korea, which the North considered a provocation.
The island houses a large weapon supply and a North Korea-focused anti-missile unit, according to NPR, which noted that the country referenced military presence on the island in its latest threat.
Guam is the "United States' outpost and starting base for invasion," according to North Korea.
Though Guam once again finds itself caught in the middle of escalating tensions between the U.S. and North Korea, many experts still believe war between the two countries is unlikely, and Secretary of State Rex Tillerson said that he doesn't believe there is an imminent threat to Guam.
"Americans should sleep well at night," he said Wednesday.