Despite the growing Trump resistance, the GOP is doing better than Dems with small-dollar donors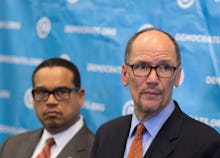 Despite Democrats' increasingly bullish hopes for the 2018 midterm elections, the Democratic Party is woefully lagging behind Republicans when it comes to a key measure of enthusiasm: small-dollar donations.
According to an article in Politico Magazine written by Michael Whitney, former digital fundraising manager for Bernie Sanders' presidential campaign, the Democratic National Committee has raised just $21 million in donations under $200 in 2017, compared to $33 million raised by the Republican National Committee from the same class of donors.
While the difference in cash is less-than-desirable for Democrats, the disparity in donations could be a sign of broader enthusiasm problems for the party's base.
As Whitney pointed out, Democrats have been leaders in small-dollar fundraising since Howard Dean's 2004 presidential campaign revolutionized online political fundraising.
Former President Barack Obama's two campaigns set multiple records in small-dollar donations. Thanks in part to Whitney himself, the Sanders campaign raked in staggering amounts with small-dollar fundraising, averaging $27 per contribution — a fact Sanders was loathe to let his opponents forget.
But in the 2016 general election, Trump was able to trounce rival Hillary Clinton in financial support from small-dollar donors, despite his overall lackluster fundraising efforts. The Trump campaign brought in more than 53% of its funding from small-dollar donations, compared to Clinton's 21%.