8 stunning places to see the best fall foliage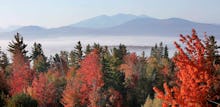 As leaves change their hues from bright greens to warm reds, oranges and yellows, leaf peepers head out in droves to witness this annual transition signifying the start of autumn. In New England alone, leaf-fueled tourism generated $3 billion in spending in 2014.
There's no perfect way to predict when the leaves near you will start changing color, but the leaves generally start changing in September in Maine and October in the mid-Atlantic.
Fall foliage trips aren't limited to the Northeast — you can watch the leaves change in Colorado and New Mexico as well. Here's where to plan a weekend (or entire season) away for some of the most colorful leaves America has to offer. 
Bar Harbor, Maine
Don't push Maine solely in the summer getaway category. Not only is lobster at its best July through December, but the state has a fantastic rainbow of foliage worthy of a special autumnal journey.
Head to Acadia National Park, America's first national park on the East Coast, for pristine coastal views and plenty of leaf peeping on several types of trees. Visitors can bike, hike and boat through the park for several perspectives on foliage. Before you leave Bar Harbor, get one last taste of summer by licking up some lobster ice cream.
Elmore, Vermont
Perhaps the nation's unofficial capital of leaf peeping, Vermont is pretty much synonymous with fall coziness to anyone living in the Northeast. Don your beanie, pick up a maple latte from PK Coffee and venture into Elmore State Park. Open through Oct. 9, Elmore State Park has a beach and open grassy spaces for picnicking and soaking in the surrounding foliage. You can hike Elmore Mountain, boat and even camp inside the park, if that's your thing.
If you want to wait until prime peeping season, check Vermont's official foliage forecast to plan a trip at the most colorful time.
Ithaca, New York
You may have heard the pun that Ithaca is "gorges" (or maybe you've seen it on a T-shirt), and exploring those gorgeous gorges during peak foliage season will show you why the upstate New York town's beauty is one of its best assets.
If fall makes you nostalgic for back-to-school season, wander through the Cornell University campus for that textbook-and-fresh-cut-grass smell, while enjoying the autumn colors surrounding you. Off campus the Finger Lakes National Forest in Hector has plenty of easy walking trails for relaxed strolls. Reward your active autumn day with a hard cider tasting and a local cheese plate at the Finger Lakes Cider House in Interlocken, which has even more pristine views of leaf-peeping country.
New Hope, Pennsylvania
Urbanites who want some culture with their leaf peeping can head to New Hope, an artsy Pennsylvania town with plenty of antique stories, a renowned theater and plenty of foliage. Check into a bed and breakfast and spend a romantic weekend strolling through town, eating in the autumn breeze (Karla's is locally renowned for its outdoor patio and gooey macaroni and cheese) and looking at the leaves.
Head to New Hope if you've ever wanted to be in two states at once (or to live out an A Walk to Remember-esque fantasy). The New Hope-Lambertville Bridge connecting Pennsylvania to New Jersey across the Delaware River lets you easily straddle the state line and have one foot in each place.
Bretton Woods, New Hampshire
The small towns surrounding the White Mountains in New Hampshire are good for kicking off the 100 miles of foliage that brighten Franconia Notch State Park come autumn. Bike, hike or boat through select stretches of the park or ride the aerial tramway for a view from above. Prioritize Flume Gorge as a natural destination for your White Mountain getaway: This all-natural gorge between two mountains is accessible by stairway or a two-mile walking path, for foliage and waterfall views unlike any other place in America.
To sleep, consider the Omni Mount Washington Resort, which has an on-site zip line, as well as a spa, indoor pool and hot tub, several restaurants, a tennis court, a golf course and stables with horses to take you on a trotting tour of the fall colors.
Essex, Connecticut
Located on the Connecticut River, this small town is the quintessential fall getaway. Book a trip through the Connecticut River Valley on the Essex Steam Train and Riverboat, which has nostalgic-feeling foliage views from the train cars. You can return via riverboat, for the full river experience.
In town, you can walk down Main Street in historic Essex and shop at galleries, boutiques and other locally owned shops. Those who really want to unwind can also book a treatment at the Spa of Essex.
Beyond its leaf-peeping opportunities, Essex is known for having one of the oldest continuously operating inns in America: The Griswold Inn. Dating back to 1776, this historic building has 33 distinct rooms to sleep in, as well as a tap room, dining room and charming decor throughout that may make you feel guilty for pulling out your iPhone when you could be fully immersed in history.
Santa Fe, New Mexico 
While the Northeast may come to mind first for a prime leaf-peeping trip, the Southwest offers just as gorgeous, colorful foliage as the trees change. Head to Santa Fe from mid-September through mid-October to surround yourself in the glimmering golden aspens.
Dozens of premapped trails — both in nature and more urban locations — can guide you through the glimmering leaves, and looming views of the Sangre de Cristo Range make Santa Fe particularly picturesque. Visit Hyde Memorial State Park or the Santa Fe National Forest for even more foliage views. Plan a visit to the Georgia O'Keeffe Museum to see how she painted the region before you leave.
Telluride, Colorado 
This Colorado ski town is worth a special visit before snow covers the slopes. Mid-September generally brings a stream of golden leaves to the San Juan Mountains, and the 360-degree views are spectacular.
Plan a six-hour (or longer, depending how much you stop) drive through the San Juan Skyway or hike through the Lizard Head Wilderness for a leaf-peeping stroll. Adventurous travelers can see the foliage from above on a Glider Tour or rent a 4x4 to go off-roading into the golden leaves.